Floating wetlands: an ecological way of overcoming nutrient pollution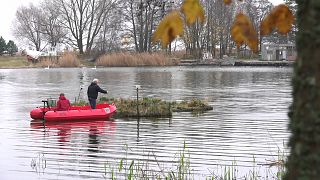 There are ten Live Lagoons pilot islands in Europe: five in Lithuania, two in Poland and three in Germany. Each is approximately 26m2. In Lithuania, they were installed three years ago.
Arturas Rathinkovas-Bathiukas, the coordinator of the project, gives us more details about these pilot wetlands designed to fight nutrient pollution.
"If you consider the effect of the investment in one island as compared to wastewater treatment plants, they are much cheaper in maintenance than for example wastewater treatment plants. Because they are natural and they simply need to be solutions that help us remove the nutrients," he says.
The latest models focus on locally-sourced materials.
"In the beginning, we simply bought a commercial product that is made of plastic cubes," he says. "It is a lot of UV resistant plastic, some coconut fibre, and we put our local plants on them. But in the end, we realized that firstly, the price of these islands is pretty high, especially if you want to use them privately. And secondly, many people were not happy with the extensive use of plastic. So we tried just to modify the construction a little bit just by introducing environmentally friendly materials like inox or metal, instead of plastic. And our local reed instead of the coconut fibre."