This week in Europe: COP26 climate conference dominates EU agenda
Comments
By Euronews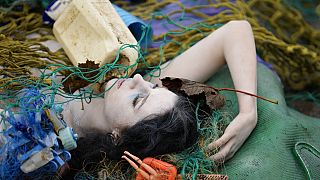 Copyright

Alastair Grant/Copyright 2021 The Associated Press. All rights reserved

-
This week European leaders focused on what was happening in Glasgow: the COP26 climate summit. 
Much has been made of the hypocrisy of world leaders jetting to Scotland for talks on how to cut emissions and put the brakes on climate change. 
However, less ink was spilt on the negotiations happening in Glasgow for COP26. 
There, the UN Secretary-General, António Guterres, asked them to step up the efforts and act to "save humanity".
In his opening speech on Monday, Guterres summed up what has been the main scientific position for years. The warning messages from the scientific community over the years drew the attention of the citizens. And public pressure has been building constantly, especially since the creation of the climate movement Fridays for Future.
Climate activists made themselves heard again, inside and outside the venue. Greta Thunberg was also there to shame the leaders. "Inside COP, there are just politicians and people in power pretending to take our future seriously, pretending to take the present seriously of the people who are being affected already today by the climate crisis", said the climate activist.
Thunberg pointed out that "change is not going to come from inside there. That is not leadership. This is leadership. This is what leadership looks like". Her call for the leaders to act was followed by some but ignored by others. Important global players like China's President Xi Jinping and Russia's President Vladimir Putin didn't make an appearance at the meeting. And it is not clear whether US President Joe Biden has the support of Congress for his ambitious climate agenda.
Given these circumstances, the European Union is slowly morphing into becoming the global leader in the fight against climate change. A role that the EU Commission president Ursula von der Leyen is eager to take. "We have to give strong commitments to reduce emissions by 2030. Net-zero by 2050 is good, but it's not enough", said von der Leyen during her speech at the meeting.
Realising this, Brussels is pushing other countries to do their part. "We need real action during this decade now. We all must speed up our race to net zero. We're running out of time", claimed von der Leyen. Whether they lag behind or not will be seen in the following years.
Low expectations for the summit
Will COP26 deliver on keeping global warming to 1.5 degrees Celsius? Hopes were not high in Glasgow. For Silvia Pastorelli at Greenpeace EU, there is a risk that the negotiations turn to 'greenwashing', and stalling for time.
"That's a big risk that governments will focus a lot on offsets. While we know that offsets do not prevent emissions from cooking our planet but are a scam to delay real emission cuts," warns Pastorelli.
One of the key points raised often by environmentalists focuses on the big changes every citizen must take to see real climate action. 
Driving electric cars, moving away from gas heating or taking fewer flights in the future are some of the examples. Are people ready for that?
"The climate crisis will cause and is already causing huge disruptions, whether people are ready or not," says Pastorelli.
The evidence is in the increasing number of wildfires, floods, droughts and tropical storms. They are more deadly and more costly, so Pastorelli argues, "the cost of doing nothing far outweighs the cost of the changes that we need to make". 
However, she adds that the climate crisis will not come down to individual choices, like switching off lights. While it's still important to do it, she says, it will come down to whether "governments will phase out the fossil fuel industry". For her, the success of COP26 boils down to this issue.
The first outcomes
In its first week of meetings, COP26 has yielded some results. For instance, world leaders closed an agreement to end and reverse deforestation by 2030 allocating 15 billion euros to protect the forests. The EU alone is going to give out 1 billion euros over the next five years to sustainably manage forests worldwide.
Even Brazil, where vast stretches of the Amazon rainforest have been cut down, was part of the agreement.
In addition, the conference committed to a US and EU-led effort to cut emissions of methane 30 per cent by 2030 from 2020 levels, another landmark achievement. More than 100 countries joined the so-called Global Methane Pledge. But it also saw some absent countries, like China, Russia or India.
And concrete measures were discussed to put into place the so-called Great Green Wall initiative in Africa, a plan to plant more than 20 million trees in 11 countries in the Sahel area.