Boris Johnson's plan to ease COVID restrictions is 'reckless', says Labour's Starmer
Comments
By Euronews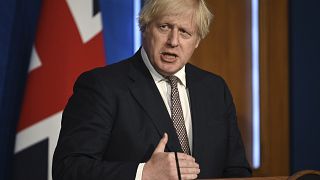 -
Copyright

Daniel Leal-Olivas/Pool Photo via AP
UK Prime Minister Boris Johnson said that the government could fully lift restrictions, including social distancing rules and mask requirements, by 19 July even as cases and hospitalisations rise in the country.
Johnson said the government planned to let people decide for themselves how to deal with their social contacts and not reimpose restrictions even though the pandemic is "far from over".
"If we can't reopen our society in the next few weeks...then we must ask ourselves when will we return to normal," Johnson said of those who recommended delaying reopening.
If the easing of restrictions goes ahead, people in England may no longer be required by law to wear face masks in indoor public spaces and to keep at least one metre apart, he added.
Although the move to the final stage of the lockdown-lifting roadmap is scheduled to happen on July 19, a final decision is due on July 12.
The UK prime minister said vaccines had helped in reducing mortality and disease but have not eliminated COVID-19.
UK officials added that one in 210 people were now infected with COVID-19 and that the country was facing an increase in infections.
Sir Patrick Vallance, the UK's chief scientific adviser, said that deaths were increasing at low levels and would further increase.
Johnson said the country should "reconcile ourselves sadly to more deaths from COVID."
Opposition Labour leader Sir Keir Starmer criticised the prime minister's announcement as "reckless", saying it was "all about headlines, it's not about public health", as he didn't yet have the data to make an informed decision.
Starmer called for "common sense" to play a part, saying people would ask why all restrictions were being eased when the infection rate was rising.
"Of course, we want to open up. Of course, we want to end these restrictions. We want our businesses to be up fully running. We all want that. But to throw off all protections at the same time is reckless," he said.
The UK recorded 27,334 infections on July 5 and 358 people were admitted to hospital due to the spread of the more transmissible Delta variant.
This comes despite high vaccination rates in the population.
About 86% of the adult population has received a first dose of a COVID-19 vaccine and 64% have received two doses.