EU leaders blast Viktor Orbán over anti-LGBT bill during tense and at times emotional summit
Comments
By Euronews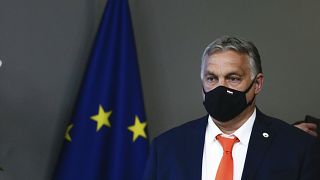 -
Copyright

Aris Oikonomou/AFP or licensors
In a very tense, and at times emotional, European summit, EU leaders joined forces against Hungarian Prime Minister Viktor Orbán over his government's new anti-LGBT law, with Dutch Prime Minister Mark Rutte going as far as suggesting Hungary should leave the bloc if it doesn't agree with the EU's core values.
Last week, the Hungarian parliament passed a new law that bans the portrayal of homosexuality and sex reassignment in school education material and TV programmes addressed to people under 18 years of age.
The Hungarian government argues the law primarily targets paedophilia, but the conflation between the LGBT community and paedophiles has been harshly denounced by human rights experts and civil society for perpetuating damaging stereotypes.
Controversy has been raging for the past few days across Europe, even spilling over into the Euro 2020. In Brussels, the European Commission has already taken the first step towards legal action in order to prevent the legislation from entering into force.
The issue was forcefully put on the EU summit's agenda after a group of 17 EU leaders, including French President Emmanuel Macron and German Chancellor Angela Merkel, signed a joint letter in defense of the LGBT+ community. The text was deliberately published mere hours before the meeting in order to influence the conversation.
It was the first time that LGBT+ rights took centre stage in the European Council.
The issue led to an "in-depth and at times even emotional debate", according to an EU official. Leaders came together to raise concerns and objections to the Hungarian law and had a chance to listen to Viktor Orbán's explanations, which didn't suffice to satisfy them.
Only Poland showed support for Orbán, while Slovakia chose not to speak up, Euronews understands. The other EU leaders took the floor, leaving the Hungarian premier isolated and corralled.
Dutch PM Mark Rutte, a long-time critic of Viktor Orbán, struck a defiant note in line with the comments he made right before the summit, when he suggested that if Hungary goes ahead with the law "then as far as I am concerned, then there is nothing left for them in the EU".
"The goal is to force Hungary to its knees regarding this issue. They have to understand that they are either part of the European Union and the community of shared values we are," Rutte said, noting that if the European Union forgets about fundamental rights, it will be nothing but a trading bloc with a common currency.
Luxembourg's PM Xavier Bettel, the only openly gay EU leader, called on his colleagues to fight intolerance with intolerance.
"You have to know we have a lot of young people who commit suicide because they don't accept themselves how they are and so, to be nationally blamed, to be considered not normal; to be considered a danger for young people, it's not realising that being gay is not a choice, but being intolerant is a choice and I will stay intolerant to intolerance and this will be my fight today," Bettel said.
European Council President Charles Michel said the conversation was "difficult" but "necessary" and "crucial". European Commission President Ursula von der Leyen called it "intense and very frank" as well as "factual and very personal".
"Yesterday, most of us were clear that the new Hungarian law goes against our values," she said on Friday. "We will protect all our citizens, wherever they live in the union and whomever they love."
"It's not acceptable that those who don't accept EU values are part of the European Union," said Portuguese PM António Costa. Portugal currently holds the EU's rotating six-month presidency.
"No one is a member of the EU because it's forced to. We all said we wanted to join," Costa added in reference to Viktor Orbán's past comments comparing the EU with the Soviet Union.
The fraught atmosphere reflects the growing exasperation and outrage that has been building up in recent years against Viktor Orbán, who is a self-declared champion of "illiberal democracy".
The new anti-LGBT law appears to have touched a nerve, especially among Western countries, who feel more comfortable blasting the Hungarian leader after his party Fidesz quit the European People's Party (EPP) earlier this year due to disagreements around the rule of law.
Angela Merkel, the most powerful figure in the European Council, and her CDU party belong to the EPP and had been previously accused of protecting Orbán while Hungarian democracy deteriorated. However, the exit from the EPP group has left Orbán more exposed to criticism and retaliation, as Thursday's meeting demonstrated.
Leaders have no intention of toning down the fight and are determined to continue pressing until Orbán reverses course and withdraws the law, Euronews understands.
All eyes are now on the European Commission which, as guardian of the treaties, has the power to take action when EU law and EU values are threatened. Besides opening a formal infringement procedure - which is all but guaranteed if the controversial law enters into force - the executive could activate a brand new conditionality mechanism that links EU funds with respect for the rule of law.
The system was established last year after leaders agreed on a landmark €750-billion recovery fund, which, combined with the bloc's annual budget, will comprise almost €2 trillion over the next years.
A majority of EU governments and Members of the European Parliament want to ensure that the countries that benefit from this boost in EU funds comply with EU law.
Using the mechanism, the Commission can recommend cutting or freezing EU payments to a member state suspected of breaching EU law. After that, the Council will have one month to vote on the Commission's recommendations, which could be approved by qualified majority.
Merkel-Macron's proposal rejected
The other big development of the evening was an outright rejection to the proposal by the French and German governments to restart summit meetings with Russian President Vladimir Putin.
The short-lived idea, unveiled by President Emmanuel Macron and German Chancellor Angela Merkel hours before the summit, failed to gather enough support, despite the momentum gained after US President Joe Biden's highly publicised meeting with President Putin in Geneva.
"It is not enough that the American president speaks to the Russian president. The European Union must also create different formats of discussion [with Moscow]," Angela Merkel said Thursday.
"Conflicts can be better resolved, as we have seen with the US President, when people talk to each other," she later added on arrival in Brussels.
But the Baltic States, Poland and other Russia-sceptic member states were vehemently opposed to resuming dialogue with the Russian leader and didn't appreciate the abrupt proposal made by Paris and Berlin. They argued the time was not right for rapprochement because Moscow is stepping up aggressive actions against EU countries.
At the end of the day, their opposition proved impossible to overcome and both Markel and Macron had to give up, offering a rare rebuke to the German-French alliance. According to one senior EU diplomat, Belgium and Denmark said the project had arrived too late.
"Yesterday, the European Council rejected the proposal to reset relations with Russia and the idea of the meeting at the highest level without withdrawal from the aggressive policy towards the EU and its neighbours," Polish Prime Minister Mateusz Morawiecki said on Friday morning.
President Macron had previously said that dialogue was necessary for the "stability of the European continent", noting that they would not give up any of their "values" or "interests" in the process.
The reversal in approach by France and Germany had been received well by the Kremlin, with Putin's spokesperson describing it as "positive".
The only possibility left after the summit is a potential meeting between President Putin and the presidents of the European Commission, Ursula von der Leyen, and the European Council, Charles Michel, similar to how both met with President Joe Biden during his visit to Brussels.
Dutch Prime Minister Mark Rutte said on Thursday that such meeting between would not "bother" him, but he added that he himself, as a member of the European Council, would not be participating in any meeting with the longtime Russian premier.
Krišjānis Kariņš, Prime Minister of Latvia, told reporters in Brussels that for any such meeting to happen, Moscow must first demonstrate some good faith.
"The concern that as I have as Prime Minister of Latvia, is that if we want to open up dialogue as European leaders with Russia, we need certain steps also coming from the Russian direction."
Just last week, Poland was hit by a large-scale cyber-attack, which it says originated in Russia, adding to Warsaw's long list of reasons not to begin cooperating with Moscow again.
Referring to this attack, Morawiecki said that the type of dialogue proposed by France and Germany would only be possible if Russia stopped its "aggressive politics".
"Starting any direct dialogue at the highest political level is only possible in a situation where there's an actual de-escalation and actual withdrawal from the aggressive politics," Morawiecki said. "It's an unequivocal situation for us. When we see hybrid attacks on our neighbours, on us, in the context of the last cyber-attack...it is difficult to start a dialogue at the highest level."
Paris and Berlin say cooperation is possible with Moscow, identifying climate change, energy, health, the fight against terrorism and organised crime, as areas where the EU and Russia can work together.