UEFA defends Munich rainbow ban, says LGBT flag is 'not political symbol'
Comments
By Euronews with AP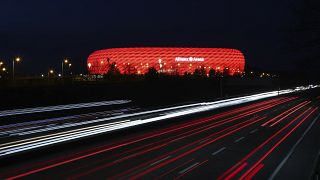 -
Copyright

Matthias Schrader/AP
Europe's football governing body on Wednesday said it does not consider the LGBT flag to be a political symbol as it defended its decision to reject Munich's request to illuminate its stadium with rainbow colours during the Euro 2020 match between Germany and Hungary.
In a statement released on Twitter in which its logo has been updated to show the rainbow flag, the UEFA said that its decision to turn down Munich's request was not political.
"On the contrary, the request itself was political, linked to the Hungarian football's team's presence in the stadium for this evening's match with Germany," it wrote.
"For UEFA, the rainbow is not a political symbol, but a sign of our commitment to a more diverse and inclusive society," it said, adding that it "is proud to wear the colours of the rainbow".
The UEFA statement comes after the body was criticised by several European heads of states.
"I think this law is wrong, and it's incompatible with my idea of politics. If you allow homosexual, same-sex partnerships but restrict information about them elsewhere, that also has to do with freedom of education. For me, this is something I reject politically," German Chancellor Angela Merkel said on Wednesday.
Germany and Hungary's men's national football teams will meet at 21:00 CET for their final group match.
Although the Munich stadium that will host the match has been barred from being illuminated with rainbow colours, clubs in Berlin, Wolfsburg, Augsburg, Frankfurt and Cologne said they would light up their venues during the fgame.
Munich Mayor Dieter Reiter also said he would raise rainbow flags over the city hall and have a wind turbine near the stadium and the city's Olympic Tower illuminated in rainbow colour.
"We in Munich certainly won't let ourselves be discouraged from sending a clear signal to Hungary and the world,'' Reiter said, after describing UEFA's decision as "shameful."
'Must decline this request'
UEFA has declined the Munich city council's application to have its stadium filled with colours, saying it understands the intention behind the proposal but it "must decline this request" because of its political context.
Reiter's application on behalf of the council made clear the request was to show solidarity with the LGBT community in Hungary after the country passed a new law denounced as homophobic by human rights groups.
The new legislation prohibits sharing with minors any content portraying homosexuality or sex reassignment, taking all mention of gay and trans issues off the school curriculum.
Hungarian Foreign Minister Peter Szijjarto slammed Munich's proposal on Monday.
"In Hungary, we have passed a law to protect Hungarian children, and now in Western Europe they are griping about it,'' Szijjarto said in Luxembourg. "They want to express this by including politics in a sporting event, which has nothing to do with the passing of national laws.''
UEFA says it believes "that discrimination can only be fought in close collaboration with others."
Instead, it has proposed that Munich illuminates the stadium with rainbow colours on June 28 for Christopher Street Day or between July 3-9 for the Christopher Street Day week in the city.
'Profound values'
UEFA's move has sparked criticism, with an online petition to support the lighting of the Allianz Arena stadium in rainbow colour gaining momentum.
Michael Roth, Germany's minister for Europe, said UEFA's decision was "bitter, but expected'' and he called for fans attending the game to show their colours in the stadium. "Set an example for diversity and solidarity with LGBTI people in Hungary and all over Europe! LGBTI rights are human rights!'' Roth wrote on Twitter.
Bavarian governor Markus Soder also regretted UEFA's decision. "It would have been a very good sign of tolerance and freedom. We have to stand up against exclusion and discrimination,'' Soder said in a post on Twitter.
Plans for other stadiums, where the tournament is not being played, to be illuminated with rainbow colours quickly gathered support on Tuesday. "If Munich is not allowed on Wednesday, then the other stadiums in the country will have to show their colours. Come now, league colleagues!'' Eintracht Frankfurt board spokesman Axel Hellmann said on Twitter.
Cologne was the first to follow, with the other cities soon joining.
Berlin Deputy Mayor Ramona Pop accused UEFA of hypocrisy. "Always happy to be lauded for actions against homophobia and racism, but not allowing a rainbow stadium as a symbol of tolerance and diversity at Euro 2020. What a poor showing, UEFA!'' Pop said.
The EU's deputy chief spokeswoman Dana Spinant said that the Commission regularly displays the rainbow LGBT flag and that they thought it was a good idea to show support for the community in this way.
But she said they "were not in a position" to ask a sporting organisation to display any particular colours, insisting that it "is a discussion between UEFA and the city of Munich."
French Deputy Minister for European Affairs Clément Beaune told reporters that France "regretted" UEFA's decision.
"We are beyond a political message. It is a message about our profound values, not a partisan proposal. So I regret this decision," Beaune said.
The French official added that France would also consider lighting up its stadiums with rainbow colours. "We are also thinking about it in France with our Sports Minister to demonstrate this European attachment to our essential values during the Euro," he said.
"The rainbow is not offensive," EU Commission Vice President Věra Jourová told Politico."If anyone has a problem with it, this speaks more about them, rather than about people who want to light up the stadium with it."
"What does the rainbow stand for?" German government spokesman Steffen Seibert asked on Monday. "It stands for how we want to live: With respect for each other, without the discrimination that has long excluded minorities. And surely the vast majority of people can relate to that.''