Greece wants to boost economic growth by up to 7% from €57bn recovery plan
Comments
By Euronews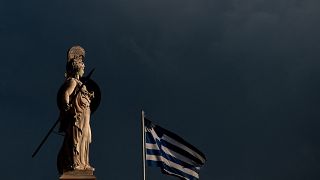 Greece wants to boost economic growth by as much as 7% over the next six years, as the country aims to mobilise €57 billion as part of its pandemic recovery plan.
Greek Prime Minister Kyriakos Mitsotakis says it will be "a bridge to the post-COVID-19 era" with the hope of also creating tens of thousands of jobs during this period.
Of this €57 billion, Athens is set to receive €30.5 billion in European Union funds from its so-called Recovery and Resilience Facility, aimed at helping member states fight back against the economic setbacks of the coronavirus crisis.
But in order to access this money, member states must spend at least 37% in investments and reforms that support climate objectives, and 20% towards the digital transition.
And the Greek plan does so, with 38% and 22% in both these areas.
The remaining €27 billion needed will come from banks and investors.
Athens' plan is highly ambitious, given the fact that Greece was just starting to recover from an almost decade-long economic crisis and harsh programme of austerity.
According to the Greek Statistics Authority ELSTAT, the recession that hit the country last year caused its economy to contract by 8.2%, with the Mediterranean country reporting the highest unemployment rate of all EU states.
But Zsolt Darvas, an economist from the Bruegel Institute, said the plan won't give Greece the immediate boost that it might need.
"Most of the money will come in 2023 and later. So, this is more a medium-term help and not immediate support to supporting the Greek economy and reducing Greek unemployment, but at the same time it can also influence expectations because if investors believe that the Greek government will use this money wisely, if indeed it will deliver economic growth in the future, then they might well start investing right now and therefore the recovery phase will be faster and the reduction in unemployment will be faster," Darvas told Euronews.
As well as the digital and green transitions, unemployment is one of the main focuses of Greece's recovery plan.
Programmes aimed at increasing jobs will be created, with a particular emphasis on boosting people's digital skills to help them navigate the future economy.
The tourism industry will also get a boost, with investment in infrastructure and skills being targeted.
"Certainly more green and digital investment will boost the competitiveness of the Greek economy and many Greek companies, but ultimately competitiveness is a very micro phenomenon," Darvas explained.
"So, how well organised firms are, how trained the labour force is, that the companies are able to quickly utilise new opportunities which arise and these more fundamental determinants of competitiveness will not be changed by the new plan."
The first 13% of EU funds as a pre-financing boost are expected by the end of the summer following the European Commission's assessment.