The waterborne waste collection facility making waves in Lyon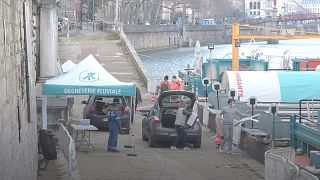 Lyon has Europe's first waterborne waste collection facility. The barge called River'tri collects up to 300 tonnes of waste a year and is used by 5000 of Lyon's residents. It's a nifty solution to increasing demands for waste removal in Lyon, France's third-largest populated city. It docks on the river Saône once a week and residents can access it by foot or on bike. It has decreased the number of rubbish trucks on the road and lessened the locals' need to drive to permanent recycling dumps. This in turn is helping the environment. 
We spoke to Emeline Baume, Vice President of the Lyon Metropolitan area to find out more about River'tri's positives and challenges.
Environmental impact
Emeline Baume, Vice President, Lyon Metropolitan area:
"The advantage of this service is that it's as close as possible to the population, the inhabitants can come here on foot or on bike. We are participating in reducing greenhouse gases and atmospheric pollution. People aren't forced to use diesel cars or anything else to drop off their waste".
Natural challenges
"Water levels mean that this service isn't always available. Having said that, I think it's the metropolis of Lyon's responsibility to offer this kind of service. Why? Because when we remove abandoned waste on the street and we guarantee public hygiene, the cost of that is already 7 to 10 times more than a service like this, as well as mobile waste disposal services and permanent dumps".
Future developments
"This kind of service will be long-lasting and should expand and be developed. We are working on a new access point for a very densely populated area between the 1st and 6th districts in Lyon. In the future, we may also have a drop-off point in the Val de Saone area to optimise, as much as possible, this kind of service".