Sviatlana Tsikhanouskaya: EU sanctions against Belarus not enough, says opposition leader
Comments
By Isabel Silva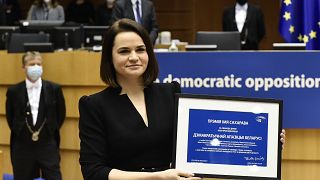 -
Copyright

JOHN THYS/AFP or licensors
The EU's sanctions against Belarus' authoritarian regime do not go far enough, opposition leader Sviatlana Tsikhanouskaya said on Wednesday after she received the prestigious Sakharov Prize in Brussels.
Speaking exclusively to Euronews, Tsikhanouskaya said that the Belarusian people were disappointed with European penalties against President Alexander Lukashenko's regime so far, after he oversaw a violent crackdown against peaceful demonstrations protesting the validity of August's contentious election.
The opposition leader officially won 10 per cent of the vote in the summer poll, but insists a proper count would see that figure raised to around 60 per cent.
"Just imagine [that] 32,000 people are detained and only about 80 people are in the sanctions list," she told Euronews. "It is not serious. The situation is so awful in our country. So many people have been tortured and raped and violated in jails, so these steps are so minimal. The steps are so slow that we really expected much more".
Tsikhanouskaya's words come as she accepted the European Parliament's Sakharov Prize on behalf of the Belarusian opposition, something that honours individuals and groups of people who have dedicated their lives to the defense of human rights and freedom of thought.
But with dialogue between the EU and the Lukashenko regime essentially non-existent, she said that the parliament could also do more to help the situation in the conflict-stricken country.
Tsikhanouskaya wants the EU to create a high-level group of former European leaders to go on a mission to Minsk to increase lines of communication between both sides.
"People that are there are fighting for the same values that you admire," she told Euronews. "Please help us and let your statements and your decisions be as brave as the Belarusian people now. 
"We insist that the European countries, separately or in this Union, have to look for opportunities for this dialogue. They have to continue and seek non-conventional ways of solving this problem".
Tsikhanouskaya said that at the beginning of the fight against Lukashenko, she only saw herself as a symbol of freedom and not so much as a leader.
But that has changed. She now has a clear vision for the future.
"I can consider myself as the leader of [a] democratic Belarus because people have chosen me as their leader," Tsikhanouskaya explained. "They have chosen me as their president, but because we do not have evidence, we do have proof of this, I cannot name myself like this.
"As per the Sakharov Prize, we are really honored," she added. "The Belarusian people got it and this very year I have to admit that Belarus got this prize for the third time. 
"It means that our fight for democracy is rather, rather long, but this year it is different because this year Belarusian people have woken up".