Coronavirus: EU could green light two COVID-19 vaccines in December
Comments
By Euronews & AFP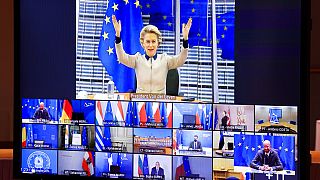 -
Copyright

Olivier Matthys/AP Photo
The European Union could give the green light to the COVID-19 vaccines being developed by Moderna and Pfizer/ BioNTech in December.
European Commission President Ursula von der Leyen said on Thursday that the vaccines could be approved before the end of the year, which would allow them to be distributed in Europe.
The European Medicines Agency (EMA) is "in daily discussions" with the FDA, its American counterpart, to "synchronise their evaluations of vaccines" against COVID-19, she told a press conference on Thursday.
"If all the procedures go smoothly, the EMA could give the Pfizer/BioNTech and Moderna vaccines their conditional marketing authorisation as early as the second half of December," von der Leyen said.
Asked about the possible use of a vaccine developed in Russia - which Hungary, in particular, has expressed an interest in - in the EU, she was very cautious. "Any vaccine will have to go through the EMA's authorisation procedure, with complete transparency," she said.
The European Commission has so far signed five contracts to pre-order potential vaccines: with Swedish-British company AstraZenaca, US company Johnson & Johnson, Franco-British duo Sanofi-GSK, US-German duo Pfizer/BioNTech and Germany's CureVac.
Earlier on Thursday, Ugur Sahin, the director of BioNTech, told AFP news agency it was possible its vaccine could get authorisation and be distributed in the US and EU before 2021.
"There is a chance that we can still obtain authorisation this year in the United States or in Europe or in both regions," said Sahin.
He said a request for authorisation is going to be filed with the United States Drugs Agency (FDA) on Friday.
"We may be able to deliver vaccines in December," he added.
Meeting by videoconference for an EU summit on Thursday mainly devoted to the management of the pandemic, the European heads of state and government also discussed how to relax restrictive measures as the festive season approaches without an excessive slackening that would lead to a "third wave" of contamination, one diplomatic source told AFP.
According to the source, they spoke of "the pressure (of citizens) to meet, travel, go to winter sports and allow the distribution sector to make its turnover" at this crucial time - and the need to "take these aspirations into account without slackening".
German Chancellor Angela Merkel and French President Emmanuel Macron insisted "a balance must be found," according to the same diplomatic source.
"We must learn the lessons of the past. Any easing will have to be gradual. We want to celebrate the festive season but in safety," Charles Michel, president of the European Council, told a press conference afterwards.
While Brussels is tirelessly calling for coordination between member states on their measures to combat the pandemic, efforts to harmonise quarantine rules or mutual recognition of tests for detecting the virus remain complicated. "We are not there yet," according to a diplomatic source.
The commission formally recommended on Wednesday that member states use rapid antigenic tests under certain conditions to better contain the pandemic - but the multiplicity of such tests marketed with extremely varied standards requires the establishment of European criteria, von der Leyen said.