Coronavirus: Belgian hospitals could reach ICU limit in 2 weeks as country tops incidence charts
Comments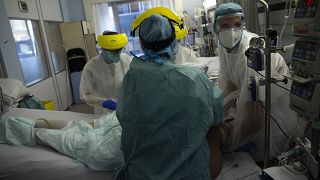 -
Copyright

Francisco Seco/Copyright 2020 The Associated Press.All rights reserved
Belgium has overtaken the Czech Republic as the European country with the highest incidence of coronavirus infections.
Over the past two weeks, Belgium recorded over 1,390 cases of COVID-19 per 100,000 people, according to data from the European Centre for Disease Prevention and Control, compared to around 1,380 cases per 100,000 Czechs.
Hospitals across Belgium are filling up quickly, and a top health official has warned the country could run out of intensive care beds in as little as two weeks.
Speaking at a weekly press conference on Monday, the interfederal COVID-19 spokesperson, Yves Van Laethem, said:
"Within 4 days, by the end of the week, we should pass the milestone of 1,000 patients in intensive care. Without changing the curve of our behaviour, we should reach 2,000 patients in intensive care in two weeks, i.e. our maximum capacity."
The warning comes after new nationwide measures were announced last Friday by the Belgian government stopping some team sports activities, for example, only for the region of Brussels to impose even stricter measures closing gyms, museums and reintroducing the use of masks in all public places.
On average, between 16 and 22 October, 12,491 people tested positive for COVID-19 per day, an increase of 44% compared to the previous week.
The number of hospitalisations in the past week also saw an increase of 85%, with an average of 468 people per day admitted.
As things stand, 4,827 people are hospitalised in Belgium because of the coronavirus and of those patients, 757 are in ICU.
Belgium has asked the Netherlands to take in some of its COVID-19 patients, but Dutch hospitals themselves have little capacity to help, according to local media reports.
Medical staff with COVID asked to work on
The province of Liège has become the country's coronavirus hotspot.
The University Hospital of Liège is overwhelmed by new admissions of patients sick with COVID-19. Some nurses who tested positive for the virus have even had to continue working to keep up with rising numbers.
In the intensive care unit, Thomas was found to have become infected three weeks previously. He says he is one of four nurses who have tested positive but who have carried on working, out of a total of 23 in the unit.
"I don't have much choice. I didn't have many symptoms. I alerted by a superior. He told me 'we can't replace you, you must come in'. It's a difficult decision. The patients can't take a break, also I'm sticking with my team. We're afraid of infecting the sick. We're taking even more precautions," the 33-year-old said.
In reference to the figures, Belgium's COVID-19 spokesman Yves Van Laethem noted that hospitalisations and deaths continue to increase, "but the contamination figures risk artificially decreasing since we no longer test asymptomatic people."
He added that the number of tests are not decreasing and that, "we are still reaching our peak of 80,000 tests per day. One in five tests are coming back positive, of which one in three are in the province of Liège. The highest infection rate is among those over 90, which means that we are at risk of hospitalisations in the days to come."
Belgian Foreign Minister Sophie Wilmes remained hospitalised in intensive care with COVID-19 but her condition is improving, her spokeswoman said on Tuesday. Elke Pattyn said the former prime minister "is getting better every day" although she will stay in intensive care until further notice.
Wilmes, who as Belgium's leader led the country's fight against the coronavirus, was hospitalized last Wednesday. The 45-year-old was in charge when the first wave of infections hit the country this spring. She says she thought she got infected within her family circle.