Coronavirus: Anger in Italy as bars and restaurants forced to shut early, more curbs in Europe
Comments
By Euronews with AFP, AP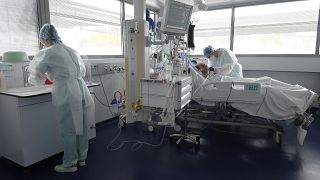 -
Copyright

FREDERICK FLORIN / AFP
More restrictions on people's freedoms have come into force in Europe, as countries battle to combat a resurgent coronavirus pandemic.
They come as the second wave of the virus is causing record numbers of cases.
Night-time curfews are being rolled out or considered in a number of European countries to try to deal with the crisis.
There has been anger at new measures introduced in Italy, where cinemas, swimming pools and gyms are closed from Monday. Bars and restaurants will have to shut by 6 pm, but shops and most other commerce can remain open.
The new restrictions, agreed by Prime Minister Giuseppe Conte and regional leaders, also see most secondary school classes being taught remotely.
"With these new restrictions, we will close. Our establishment is not located in a town centre, we're in the provinces, our customers come in the evening or over the weekend," Giuseppe Tonon, a 70-year-old restaurant owner in Oderzo, a small village in the north-east, told AFP.
"The government has listened to no-one," denounced Carlo Bonomi, head of the main employers' federation Confindustria.
According to the union FIPE-Confcommercio, the new constraints will cost the restaurant industry around an extra €2.7 billion.
Far-right politicians also slammed the restrictions. Matteo Salvini of the League party described them as "madness, a lockdown which does not speak its name".
But the political left and the government have accused the right of surfing on popular discontent provoked by the measures. "Don't forget that the real enemy is the virus," Italy's President Sergio Mattarella said on Monday, criticising "irresponsible behaviour".
The prime minister said he wanted to avoid another national lockdown and the economic damage caused by the one Italy faced in spring.
Among the regions pushing for stricter measures was Campania, which contains Naples, where hundreds of people have clashed with police as mainly younger people protested against a curfew imposed in the area.
In addition to the Naples region, curfews are in force in Lazio, the region of Rome, and in Lombardy, the region of Milan.
Spain spent its first night under a new nationwide curfew on Sunday into Monday, after the government agreed on Sunday to declare a new state of emergency.
Regions across Spain are subject to a curfew at night from 11 pm until 6 am CET, although they have the power to modify the start and end times by up to an hour earlier or later.
Spain was the first western European country to pass the one million coronavirus cases mark.
Both Spain and Italy were badly affected during the first COVID-19 wave in Europe.
New restrictions have also come into force amid a resurgence of the pandemic in Belgium.
Authorities in Brussels announced on Saturday they would bring forward a curfew to 10 pm in the Belgian capital, as well as ordering shops to close at 8 pm and banning cultural and sporting activities.
School half-term holidays have been extended in the country, where infections have tripled in five weeks.
In France, the head of the government's scientific advisory body Jean-François Delfraissy has described the second COVID-19 wave as "brutal", saying it could be even "stronger than the first".
The country continued to report a top division stadium-full of new daily cases at the weekend, beating its own 24-hour record on Sunday with 52,010 more infections.
This came on top of 45,422 coronavirus cases recorded the previous day, itself a record. More than 2,500 COVID-19 patients are in intensive care in hospital.
French lawmakers voted on Saturday to extend until 16 February the health state of emergency, granting the government powers to impose restrictions.
Last week France extended an overnight curfew to 38 more departments, putting at least 46 million of its residents under extra restrictions. Nine metropolitan areas had already been put under the same constraints the previous week.
Prime Minister Jean Castex said on Friday that the government could take stricter measures. On the same day France became the second western European nation to surpass one million reported cases, after Spain.
In Germany, Angela Merkel's conservative party has postponed its conference which was scheduled for early December. The event had been due to elect a new president and potential candidate to run for Chancellor in 2021.
A second German district is to go into a de-facto lockdown as new coronavirus infections surge in the country and across Europe.
News agency dpa reported that local authorities in Bavaria's Rottal-Inn county, on the border with Austria, said on Monday that the restrictions will begin at midnight. Rottal-Inn follows Berchtesgaden, another Bavarian county in Germany's southeastern corner, which introduced similar restrictions last week.
The country surpassed the grim milestone of recording more than 10,000 deaths from the virus on Saturday, making it the sixth European country to do so.
The Czech Republic has also been particularly impacted by the second wave which started sweeping the continent in September. Along with Belgium, it has reported a 14-day COVID-19 incidence rate of more than 1,000 cases per 100,000 population.
Fearing the Czech health system could be overwhelmed, army field hospitals have been erected in and around the capital Prague. A partial lockdown is in place in the country until November 3.
The Czech Republic logged 15,250 new cases on Friday - its highest ever daily increase.
It also recorded 126 deaths overnight, bringing the country's death toll to 1,971.
In Switzerland, university hospitals in Geneva have launched an appeal to medical students and recently retired medical staff to come and help treat new COVID-19 cases, which they fear could become "much more numerous" than last spring.
The World Health Organization (WHO) has warned hospitals and intensive care units are running close to or above capacity in "too many countries", as the coronavirus outbreak continues to surge across Europe.
"Too many countries are seeing an exponential increase in COVID-19 cases and that is now leading to hospitals and intensive care units running close or above capacity and we're still only in October," said Dr Tedros Adhanom Ghebreyesus, the WHO's Director-General at a briefing on Friday.
Bulgaria's Prime Minister Boyko Borissov announced on Facebook on Sunday that he had tested positive for COVID-19, adding that he was experiencing a "general malaise" and would remain at home.
In the rest of eastern Europe, several countries rolled out new measures with cases spiralling out of control.
The president of Poland, Andrzej Duda, tested positive for the virus, the government said on Saturday.
Faced with a surge in cases, the whole of Poland on Saturday went into a "red zone", a measure which until now only concerned the big cities and their surroundings.
Restaurants and primary schools will be partially closed, and high school and university students will practice distance learning. Wedding ceremonies will be banned and the number of people in shops, transport and churches will be strictly limited.
In neighbouring Slovakia, a night-time curfew came into force on Saturday, until 1 November.
A partial containment was put in place from Saturday in Slovenia, where foreign minister Anze Logar tested positive for the coronavirus.
Greece's two main cities, Athens and Thessaloniki, also became subject to a night-time curfew from Saturday.
Across Europe, the number of infections since the start of the pandemic is now above 8.2 million and more than 258,000 people have died from COVID-19, according to WHO figures from Friday.
Elsewhere in the world, the United States tallied a record daily high of COVID-19 cases on Friday, with the Covid Tracking Project, citing data from local state health authorities, reporting 83,010 new cases.
This was followed by another 82,688 US cases on Saturday and 65,413 cases on Sunday.