Valtonyc: Spanish rapper's extradition verdict delayed amid constitutional query
Comments
By Ana Lazaro, Joanna Gill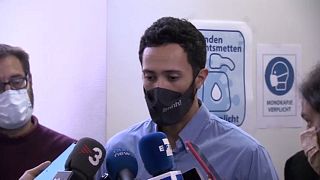 -
A court in Belgium has postponed issuing a ruling on the extradition of the Spanish rapper Valtonyc.
The judge has asked the Belgian Constitutional Court to deliver an opinion as weather to insult the king on song lyrics violated freedom of speech highest law. 
"We still have in Belgium a law that's like from the 1800s making it an offense to insult the King," explains Simon Bekaert, Valtónyc's defense attorney.
"Now the court asks the constitutional court if this kind of law is not a breach of freedom of speech, a breach of fundamental rights as guaranteed in our constitution, as guaranteed in the European Convention on human rights."
In Belgium, lèse-majesté, offence towards the royal family, remains a criminal offence.
The singer, whose real name is Josep Miquel Arenas, was sentenced in Spain to three and a half years in prison for writing lyrics praising terror groups and insulting the Spanish royal family.
In 2018 he fled to Belgium to avoid going to prison.
Now he wants to show that in European countries the monarchy can be criticized, to which he adds, that time has proved him right.
"Well, I have called him (the king) a thief, they have condemned me for calling him a thief and in the end he is a thief," says Valtónyc.
The king emeritus, Juan Carlos I, is being investigated for his finances and for the alleged commissions he got for the construction of the high speed train that leads to Mecca which led him to leave Spain and settle in the Emirates United Arab in August.
Regarding the conviction for exalting terrorism, the European Court of Justice has already ruled that Spain misused the automatic extradition order.
At the moment, Valtónyc is on probation in Belgium and a court decision is not expected before December 3.