Watch: Boris Johnson says aide 'acted responsibly' in row over lockdown
Comments
By Euronews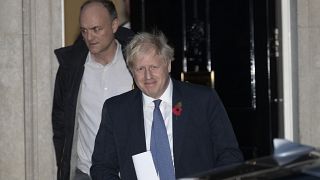 Copyright

AP Photo/Matt Dunham, File

-
Boris Johnson repeatedly defended aide Dominic Cummings stating he "acted responsibly" when he travelled while likely infected with coronavirus during lockdown in March.
"He followed the instincts" of any parent and "acted responsibly and legally," Prime Minister Johnson said at the UK's daily coronavirus briefing.
Cummings has faced criticism after it was revealed in two British newspapers that he travelled more than 400 kilometres from London to relatives in Durham. 
Members of the UK opposition have called for Cummings to resign over what they say was a breach of lockdown. Several conservative MPs have also voiced concern over the action, stating that they had received angry messages from constituents.
"There cannot be one rule for most of us and wriggle room for others. My inbox is rammed with very angry constituents and I do not blame them," tweeted conservative MP Caroline Nokes.
"We've all been tasked with tempering our parental, and other, instincts by strictly adhering to Govt guidance," tweeted conservative MP David Warburton.
UK officials have defended Cummings' travel as within their guidance on lockdown, explaining that there are exceptions to lockdown that includes childcare.
"Looking at the very severe childcare difficulties that presented themselves to Dominic Cummings and his family, I think that what he did was totally understandable," the UK prime minister said while pressed by journalists on the subject.
"I think any father, any parent, would frankly understand what he did," Johnson said, repeating that the government's guidance allows for such travel.
He said he can "totally get" why people feel confused and "offended" by the actions but Johnson said "most people" would understand.
But a YouGov survey of 3,707 adults in Great Britain found that 68% of those surveyed think that Cummings' actions broke lockdown rules.
Cummings told reporters on Saturday he had "done the right thing" by travelling with his wife and son to be near family when she developed coronavirus symptoms at the end of March.
But two new reports emerged over the weekend citing witnesses who said they saw the government aide on 12 April in Bernard Castle, near Durham, in a second instance during lockdown.
Johnson dismissed these reports focussing on the March incident; Cummings has yet to respond to them.
This article is being updated as events unfold.