Coronavirus: Spaniards take to the terraces as lockdown eases
Comments
By Euronews with AP, AFP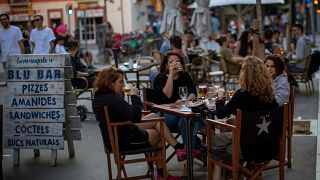 -
Copyright

AP Photo/Emilio Morenatti
Summary of latest updates:
Follow all our updates below:
05.25.2020
23:02
'Significant milestone' as Ireland sees first day without COVID-19 death
Ireland's Taoiseach has hailed a "significant milestone" as the country reported no new deaths from COVID-19 for the first time since March 21.
Leo Varadkar tweeted: "Significant milestone today. First day with no reported COVID-19 deaths since March 21st. This is a day of hope. We will prevail."
Ireland's total confirmed cases stands at 24,598, with a death toll of 1,606.
05.25.2020
21:36
France records 90 more deaths in hospitals
The coronavirus epidemic has caused at least 28,457 deaths in France since the beginning of March, with 90 new deaths recorded in the last 24 hours in hospitals, two weeks after the progressive lifting of the containment, according to the government figures.
The number of patients seriously affected by the virus and hospitalized in intensive care continued to decrease on Monday, with 1,609 patients registered, 46 less in 24 hours, according to the balance sheet of the General Health Directorate.
05.25.2020
21:18
50 more deaths in Spain
Spain recorded 50 deaths from coronavirus in the last 24 hours, taking the country's total to 26,834. This total figure is one that has been revised down by 1,918 from Sunday, after the Ministry of Health corrected the total following a validation and review of the data available.
A few days ago, the data was corrected upwards by suddenly adding almost 700 deaths in Catalonia that had not been accounted for.
This revision of the figures occurred as the regions of Madrid, Barcelona and Castilla y León entered phase 1 of the de-escalation of lockdown, while much of the rest of the country went into phase 2, with fewer restrictions.
05.25.2020
20:42
Outdoor markets and car showrooms to open from 1 June in UK
Boris Johnson has announced that outdoor markets and car showrooms will be able to open on the 1 June in the UK, as he outlined a speed up of the unlocking process.
Praising the public for its collective effort, he said the country was heading in the right direction. At the daily coronavirus briefing, the PM added that all non-essential retail shops will be able to open from June 15, so long as cases of COVID-19 don't start to rise, and as long as the shops are "COVID-secure".
Hospital admissions are down for coronavirus victims, and 121 deaths were recorded over the last 24 hours.
Facing further questions from journalists about his advisor Dominic Cummings who has been the subject of a media storm for breaking lockdown guidelines he himself helped to forge, Johnsons said: "I believe he acted reasonably, legally, and as I said yesterday acted with integrity and care for his family and others."
 
05.25.2020
20:01
Germany approves €9bn euro aid package for Lufthansa
The German government has approved a 9 billion euro aid package for stricken airline Lufthansa to keep a major employer going through the coronavirus pandemic.
Economy Minister Peter Altmaier said the aid package is a "sustainable and reasonable" solution to keep the company going. "We have also ensured that over 100,000 people need not live in fear of imminent loss of their jobs," he said at a briefing in Berlin.
He added that the government was in talks with the European Commission over its approval for the deal but declined to say what was at issue.
Lufthansa CEO Carsten Spohr told employees on April 24 that the company was losing cash at the rate of a million euros per hour and that passenger numbers had fallen to 1 percent of previous levels.
05.25.2020
19:54
Immunity to coronaviruses may only last just six months, says new study
Researchers at the University of Amsterdam found that there was an "alarmingly short duration of protective immunity to coronaviruses". Read more:
euronews
It casts doubt over the practicality of introducing "immunity passports", which some governments want to issue to COVID-19 survivors.
05.25.2020
19:43
UN trial for virus therapies pauses testing on Trump's drug
The World Health Organization says it will temporarily drop hydroxychloroquine — the malaria drug President Trump says he is taking — from its global study into experimental COVID-19 treatments, saying that its experts need to review all available evidence to date.
WHO director-general Tedros Adhanom Ghebreyesus said that in light of a paper published in the Lancet that showed people taking hydroxychloroquine were at higher risk of death and heart problems, there would be "a temporary pause" on the hydroxychloroquine arm of its global clinical trial.
Dr Michael Ryan, WHO's emergencies chief, said there was no indication of any safety problems with hydroxychloroquine in the WHO trial to date, but that statisticians would now analyse the information.
Last week, Trump announced he was taking hydroxychloroquine although he has not tested positive for COVID-19. His own administration has warned the drug can have deadly side effects, and both the European Medicines Agency and the US Food and Drug Administration warned health professionals last month that the drug should not be used to treat COVID-19 outside of hospital or research settings due to numerous serious side effects that in some cases can be fatal.
05.25.2020
19:35
Watch Euronews Tonight for latest updates...
For the latest on the Dominic Cummings saga and other stories watch here for updates on Euronews TV throughout the evening:
euronews
Follow the news live on euronews.com – Breaking news, latest news updates, international news, stay informed
05.25.2020
19:28
Russia remains in lockdown as COVID-19 cases top 350,000
Russia President Vladamir Putin has delegated the responsibility of easing lockdown measures to regional governors.
The number infections is of one of the highest in the world, and Moscow is at the centre of the country's outbreak.
Our Moscow correspondent Galina Polonskaya reports:
euronews
Russia's deaths-to-infections ratio is far lower than in other countries. Doctors and activists say the number of fatalities is much higher.
05.25.2020
19:15
Cummings 'eyesight' claim ridiculed on social media
The explanation by Boris Johnson's adviser for his 30-mile trip to Barnard Castle on April 12 (Easter Sunday) has... raised eyebrows on social media and elsewhere.
Dominic Cummings said he wanted to test his recovery, especially his eyesight which had suffered while he had COVID-19, before making the longer drive back to London.
"If I'm worried about my vision, driving a car containing my family for 30 miles is a bold choice of eye test," said one comment on Twitter.
"Oh come on now, who hasn't gone for a drive to check their eyesight?" asked Scottish National Party (SNP) MP Alyn Smith, with not a little hint of irony.