France's COVID-19 death toll rises by more than 1,400 and passes 10,000 mark
Comments
By Euronews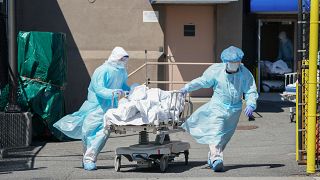 -
France's COVID-19 death toll jumped by more than 1,400 and passed the 10,000 mark on Tuesday.
French authorities said that 597 people have died in hospital in one day, bringing the total of deaths in hospital to 7,091, while 3,237 have died in nursing home, with 820 new deaths in the last 24 hours.
The country started reporting deaths in nursing homes at the beginning of April, so the 820 new deaths announced on Tuesday are in part due to this delay.
Italy reported on Tuesday its lowest infection increase since March 13, with 3,039 new confirmed cases of coronavirus. The country's death toll has increased by 604 in one day, to a total of 17,127 deaths.
UK Prime Minister Boris Johnson remained in a stable condition in intensive care on Tuesday afternoon, receiving "standard oxygen treatment" for his COVID-19 symptoms, the UK's foreign secretary said.
The PM was taken to an intensive care unit on Monday after he was hospitalised due to persistent symptoms. He was diagnosed with coronavirus more than a week ago.
It comes as the UK announced a record 786 deaths from COVID-19 in 24 hours.
Elsewhere in Europe, Spain saw a rise in cases and deaths after recent falls.
New York hit a sombre milestone on Tuesday after 731 new fatalities from COVID-19, a record, took the city's death toll beyond 3,200 people.
That's two hundred more than died during the 9/11 attacks. September 11, 2001, saw 2,753 people killed in New York and 2,977 overall, after planes flew into the World Trade Center, the Pentagon and a Pennsylvania field.
New York is the epicentre of America's coronavirus outbreak, where hospitals are struggling to cope.