British and French authorities intercept over 220 migrants in English Channel
Comments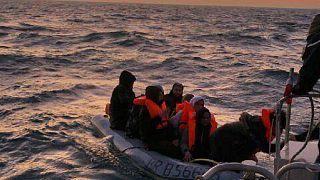 -
Copyright

Prefecture Maritime de la Manche et de la Mer du Nord
British and French authorities have rescued more than 220 migrants in the English Channel over the past 48 hours, the Home Office has confirmed.
UK officials said they dealt with six different incidents on Friday, involving 102 migrants — the second single-day record in as many days.
The vast majority, 93, were intercepted by UK Border agency vessels in British waters. The remaining nine were detained by Kent Police at Sandgate Beach, in Folkstone, in southeastern England.
Meanwhile, the French authorities have detained "around 30 people" in "multiple small boats incidents", the Home Office added.
Of these, 11 were rescued in the early hours of Friday morning after they issued a distress call, the French maritime prefecture had said in a statement.
These incidents come after 90 migrants were intercepted in British waters on Thursday.
Around 2,758 migrants attempted to cross the English Channel by boat in 2019, according to figures from the French maritime authorities.
This represents a near five-fold increase from the previous year when 568 migrants had attempted the illegal crossing. The sharp rise was also accompanied by the first deaths with at least four migrants losing their lives in the Channel last year.
According to the Home Office, French authorities have prevented 216 migrants from carrying out land and sea crossings between January 20 and February 5 of this year, suggesting another sharp rise.
Security Minister Brandon Lewis said that the UK is cooperating with the French and Belgian authorities to tackle illegal migrant crossings through enhanced intelligence sharing as well as the increased deployment of drones, specialist vehicles and detection equipment.
"The majority of migrants who attempt this journey are being stopped, only 25% have made it to the UK this year, compared with 48% last year," Lewis said.
The recent spell of good weather may explain the current surge, Bridget Chapman from the Kent Refugee Action Network told Euronews.
"The people I work with who have made this journey say they were terrified, they thought they were going to die, they were very cold and they were all relieved to be here safely.
"We need to find a way to deal with this issue so that people can be facilitated to make their asylum claim safely," she said.
"We [Britain] take in very small numbers of displaced people compared to other countries in the world," she added.
In 2018, more than 630,000 asylum seekers applied for international protection in the EU of which 581,000 were first-time applications, according to Eurostat.
The main countries of destination were Germany, France and Greece. The UK came in sixth with 37,000 first-time applicants.