Strasbourg Disruptors - British MEPs on their way out, Catalans on their way in
Comments
By Darren McCaffrey, Sandor Zsiros, Ana Lazaro, Jack Parrock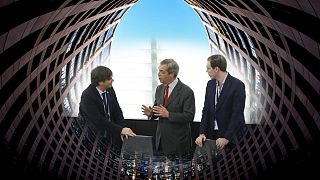 Copyright

AP, European Parliament

-

Gill, Joanna
British MEPs said their parliamentary goodbyes this week as they sat in the French city Strasbourg for the final time before Brexit.
Several of them posted videos from inside the European Parliament. Some were triumphant about Brexit, while others were regretful.
Brexit Party MEP Martin Daubney said he was happy about his impending redundancy, while the Green Party's Catherine Rowett said she was distraught about leaving.
Comin to sit for the first time
But it wasn't all about who was leaving the parliament. Earlier in the week, there were two significant arrivals: Carles Puigdemont and Toni Comin.
The pair, former leaders of the independence push in Catalonia, took their European Parliament seats for the first time.
Both were elected last May, but have not been able to enter EU buildings because Spanish authorities don't recognise them as MEPs.
But earlier this month the European Parliament said they could take up their seats, after a favourable ruling by the European Court of Justice in December.
MEPs discuss Iran crisis
One key issue on the discussion table for MEPs was the crisis in Iran.
Tensions between Tehran and Washington have climbed to their highest levels since the US embassy hostage crisis in 1979.
It has left the Iran nuclear deal (JCPOA) — which saw Tehran agree to limit nuclear activities in return for the lifting of crippling economic sanctions — all but dead.
Nevertheless, the EU's foreign affairs chief, Josep Borrell, still has hope. That is despite lodging a formal complaint about Iran's breaching of the Iran deal.
He said it was "more important than ever" to save the 2015 agreement "in light of the ongoing dangerous escalation in the Middle East".
"Failure to preserve the deal will only add to tensions in the region," he said.
"Imagine for a second what would be the situation today had Iran nuclear weapons - and they would have been able to obtain those without JCPoA."
MEPs maintain pressure on Poland and Hungary
Brussels has been piling on the pressure on Hungary and Poland over concerns about the rule of law in both countries.
The EU believes changes to the judiciary in Poland undermines courts' independence, while for Hungary, there is concern about whether there is a free media and restrictions on academics and human rights groups.
This week in Strasbourg, MEPs voted on a resolution calling on EU member states to clamp down on rule of law breaches.