EU fish quota quarrel - ministers hail deal, NGOs slam overfishing
Comments
By
Maria Psara
&
Ana Lazaro, Shona Murray, Meabh McMahon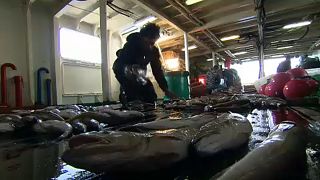 A deal on 2020 catch limits for Europe's most important fish stocks has been cooked up in Brussels. In tense talks, that went on into the early hours of the morning, EU agricultural ministers said they had reached a balanced agreement that respected the environment and socio-economic sustainability.
"We need to look at sustainability as well on it broadest application, sustainability of course of the communities of the fishing industry. And I think we have got the balance right; We have made real progress in terms of keeping fishing stocks at sustainable level," Michael Creed, Irish Minister for Fisheries told Euronews.
The agreement focused mostly on the Atlantic and the North Sea. Some stocks, like cod and prawns were reduced, but others like mackerel and haddock were increased.
Environmental groups are outraged and slam the EU for not following the advise of scientists nor respecting its own 2020 deadline for setting fishing quotas at sustainable levels.
"We are obviously extremely disappointed actually with the Fisheries ministers. Not only have they continue over-fishing and broken their own legal deadline of 2020; but they are really missing a golden opportunity to deliver decisive emergency climate action right now that the EU Council has been talking about wanting to do," says Rebecca Hubbard from Our Fish NGO.
NGOs like Our Fish believe EU countries put short term economic interests ahead of the health of their waters. Which means that waters will continue to be over-exploited