Serie A apologises for "inappropriate" monkey paintings in anti-racism campaign | #TheCube
Comments
By The Cube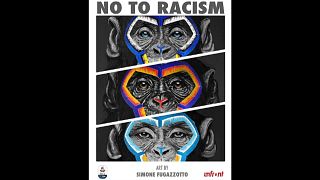 Copyright

Credit: Simone Fugazzotto
Italy's top football league, Serie A, has apologised for a new anti-racism campaign which features paintings of three apes.
The artwork was installed at the league's headquarters in Milan as part of an effort to combat the rising problem of racism in Italian football.
But the campaign has widely criticised by football clubs and discriminatory groups.
In a statement to Euronews, Lega Serie A's CEO, Luigi De Siervo, expressed his "sincere apologies for the artwork" and says he realized it was "inappropriate".
Serie A side AS Roma said on Tuesday they "understand the league wants to tackle racism but we don't believe this is the right way to do it".
Meanwhile another club, AC Milan says they were "surprised by the total lack of consultation''.
Fare, an anti-discrimination monitoring group in football, has labelled the campaign "a sick joke".
In a statement to Euronews, Kick It Out added that Serie A's decision to include monkeys is "completely inappropriate, undermines any positive intent and will be counter-productive".
"‪We hope that the league reviews and replaces their campaign graphics".
The artist, Simone Fugazzotto, said in an Instagram post that he wanted to "turn the concept around, as we are all monkeys originally".
In a statement to the Associated Press, Serie A said: "true art is provocation".
"The idea behind Fugazzotto's artwork is that whoever shouts racist chants regresses to his primitive status of being a monkey."
Serie A have told Euronews that their "strong and condemnation … against all forms of discrimination and racism" cannot be questioned.
"We are committed to eradicate this from our beloved league," said De Siervo.
"Lega Serie A is working on its official anti-racism campaign, which cannot be identified with Simone Fugazzotto's work, and it will be presented by the end of February".
_Click on the player above to watch The Cube's report before Serie A issued an apology for the artwork. This article has been updated to add Serie A's statement.
_