Watch again: Boris Johnson visits northern England a day after election victory
Comments
By Euronews with Reuters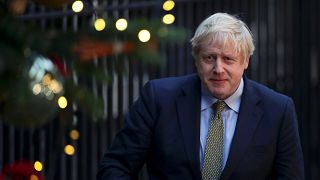 -
Copyright

REUTERS/Lisi Niesner
UK Prime Minister Boris Johnson visited northern England on Saturday pledging the former Labour strongholds to repay their trust for helping to deliver a landslide victory for his Conservative Party in Britain's national election.
The Conservatives secured 365 seats — well above the 326 needed for a majority in the House of Commons — after winning seats in northern England that had been in Labour hands for generations.
"You have changed the political landscape, you've changed the Conservative Party for the better, and you've changed the future of our country for the better," Johnson told a crowd of supporters on Saturday.
"People may have been breaking the voting habits of generations to vote for us. I want the people of the north-east to know that we in the Conservative Party and I, will repay your trust. Everything that we do, everything I do as your Prime Minister will be devoted to repay your trust."
"First of all, what are we going to do to repay that trust? We are going to get Brexit done," Johnson promised.
Johnson, who called the snap election to break years of deadlock in parliament over Brexit, has also promised to spend more money on health, education and the police.
"Our country is now embarked on a new adventure," he said, promising it will be "doing all sorts of things differently and better."
READ MORE: UK election: Johnson calls for 'healing to begin' after resounding victory