John Major: UK's former Conservative PM breaks party ranks to urge voters to reject Brexit
Comments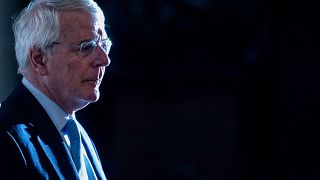 Sir John Major has urged the UK to vote for MPs who don't support Brexit — essentially warning against backing Boris Johnson and the party he once fronted.
The UK's former Conservative prime minister broke party ranks on Friday to make a speech broadcast to a rally held in support of a referendum for a final say on Brexit.
He didn't explicitly tell the electorate in the video to vote against the Conservative Party, but the 76-year-old began his speech by criticising Brexit before saying it was "undemocratic" to not allow another vote.
"When the nation voted on Brexit, they did so out of fiction and undeliverable promises. As the facts become known, it's extraordinary that a new vote is denied," he said.
"Extraordinary, and frankly, undemocratic."
Major, who is one of the most popular figures of the Conservative Party, went on to detail his belief that Brexit is "the worst foreign policy decision in my lifetime."
He added: "It will affect nearly every aspect of our lives for many decades to come. And it will make our country poorer and weaker — and the individuals within it. It will hurt most those who have least."
The withdrawal could also break up the United Kingdom, he continued: "Within a few years, Scotland may leave the union. Northern Ireland may unite with the south.
"Both may do so in order to remain within the European Union."
Major went on to say three Tory rebels — David Gauke, Dominic Grieve and Anne Milton — would "get my vote" in the election.
The three politicians are running as independent candidates in the snap ballot after voting against Boris Johnson's government in September.
He also expressed support for his former deputy prime minister — Michael Heseltine — who also had his whip suspended after saying he would vote for the Liberal Democrats.
John Major and Tony Blair 'absolutely at one'
But upon introducing former Labour prime minister Tony Blair as the next speaker, Major noted that politics often "throws up some strange alliances".
He assured the audience that issues surrounding Brexit had left the two former political rivals "absolutely at one".
In response, Blair opened with: "Brexit isn't a mistake — I wish it were. It is a disaster. A disaster our country cannot afford."
The UK is set to go to the polls for the snap election on December 12. Recent polling has shown Boris Johnson and the Conservative Party holding a several point lead over the rival Labour Party.