Tusk vows to tackle nationalists head on
Comments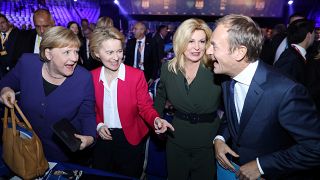 This week Euronews reported from the West Bank and documented the impact of Israeli settlements in the Palestinian Territories. Reporter Isabel Silva also spoke with Palestinian refugees - including a child - who have been arrested by Israeli security services. And in light of a major shift in US policy in the region, the EU is now expected to do more to fill the void.
In EU news, outgoing president of the European Council Donald Tusk was elected unopposed as president of the European People's Party. In his maiden speech he vowed to confront the political populism, nationalism and authoritarianism creeping in to Europe.
And in NATO, Latvian Foreign Minister, Edgars Rinkēvičs said the EU needs support from US and Canada in areas of defense.