Nigel Farage will not run in UK election, but Brexit Party will field candidates in 600 seats
Comments
By Euronews with Reuters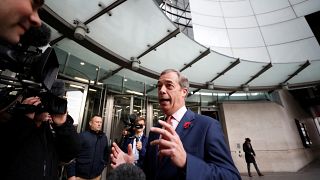 Copyright

REUTERS/Yara Nardi

-
Brexit Party leader Nigel Farage will not stand in the UK election on December 12, choosing instead to campaign countywide against Prime Minister Boris Johnson's EU divorce deal.
Farage, who has been an MEP since 1999 - until December 2018 with UKIP - confirmed that he would not run as an MP.
Farage has tried and failed to join the British parliament on no less than seven occasions, in five general elections and two by-elections. In his last run in South Thanet in 2015 he lost by just 3,000 votes.
"I have thought very hard about this: How do I serve the cause of Brexit best?" he told the BBC's Andrew Marr on Sunday.
"Do I find a seat and try to get myself into parliament or do I serve the cause better traversing the length and breadth of the United Kingdom supporting 600 candidates, and I've decided the latter course is the right one."
"We will explain to people why Boris' Brexit is a betrayal of the hopes of 17.4 m," he added on Twitter, with reference to those who voted to leave the EU in the 2016 referendum.
On Friday, Johnson rejected an election pact with the Brexit Party.
Nigel Farage had offered to build an electoral alliance with the Tories if they dropped Johnson's exit deal with the EU and allowed the UK to crash out without an agreement.
Launching his Brexit Party's general election campaign, the former UKIP leader told the UK's prime minister he must "drop the deal, because it is not Brexit," warning him his party would stand candidates in every seat in the country if he didn't do so.
The Brexit Party claims to have 115,000 signed up members, each of which paying £25, and has been raising funds with disaffected Tory donors.
Read more: What is it like to be a Brexit Party MEP in the heart of the EU?
The party swept the polls at the May elections for the European Parliament, with 29 MEPs elected.
It was polling as high as 13% nationally earlier this year, but polls on Sunday suggested that support may have dropped as low as 7% amidst a growing weariness with Brexit with the British electorate.
Despite its support, the Brexit Party will struggle to gain parliamentary seats due to the UK's first-past-the-post system, which benefits incumbent, major parties such as Labour and the Conservatives. Back in 2015, UKIP won 13% of the national vote but only one parliamentary seat.
As a result, Johnson and the Conservatives have warned Tory voters that if they vote for the Brexit Party they risk helping Jeremy Corbyn and Labour win on December 12.
Farage, alongside 28 other Brexit Party MEPs, earns a salary of €8.757,70 before tax as an MEP, plus expenses of around €4,500. That compares to €7,666 received by a British Member of Parliament, although MPs are also able to claim expenses for running an office and living in London.