Boris Johnson rejects election pact with Brexit Party's Nigel Farage
Comments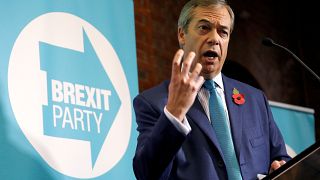 Nigel Farage has offered to build an electoral alliance with Boris Johnson if he drops his exit deal with the EU and allows the UK to crash out without an agreement.
Launching his Brexit Party's general election campaign, the former UKIP leader told the UK's prime minister he must "drop the deal, because it is not Brexit," warning him his party would stand candidates in every seat in the country if he didn't do so.
Boris Johnson responded in a series of interviews that he had ruled out an alliance with any other party.
"I ruled out a pact with everybody because I didn't that it's sensible to do that. We are proud of our beliefs, we're proud of our one nation conservatism," Johnson told Sky News.
The Conservative Party is aiming to win the December 12 election by campaigning for Boris Johnson's new deal with the EU.
Farage said that currently the Brexit Party is the only party advocating for Brexit and warned Johnson not to underestimate the determination or organisation of his party.
Calling on Johnson to drop the deal and instead go for a "genuine free trade agreement" along the lines of Canada's agreement with the EU, Farage said: "I believe the only way to solve this is to build a leave alliance across this country. If it was done BJ would win a very big majority, and we really could get Brexit done."
More: Why tactical voting is the talk of the UK's upcoming general election
More: How can British expats vote in the next general election?
The MEP for South East England, who has tried and failed to win a seat in Parliament seven times, was a key figure in securing a referendum and a public vote to leave the European Union.
The Brexit Party wants the UK to leave the EU without a deal in place, and currently has no seats in parliament, although it does have 29 MEPs.
On Thursday, Farage conducted an interview with Donald Trump on his show on a British radio station, in which the US president urged the Brexit Party to get behind Boris Johnson.
Farage responded by saying he would be "right behind" Johnson, if the prime minister dropped the Brexit divorce deal he struck with the European Union two weeks ago and instead went for a "clean break" Brexit without a deal.
Conservative Party Chairman James Cleverly said a vote for Farage would give Labour Party leader Jeremy Corbyn the keys to Downing Street and could end the chance for Brexit to even happen.
"A vote for Farage risks letting Jeremy Corbyn into Downing Street via the back door - and the country spending 2020 having two referendums on Brexit and Scottish independence," he said.
"It will not get Brexit done - and it will create another gridlocked parliament that doesn't work."
You can watch the entire launch again in the video player, above.