Team Ursula: new candidates face scrutiny
Comments
By Jack Parrock, Sandor Zsiros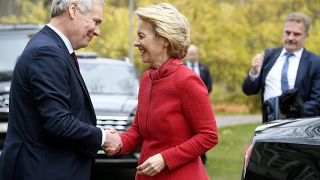 The new European Commission is already late and Ursula von der Leyen might struggle to get a full team any time soon, after the European Parliament rejected three nominees.
She's also is already thinking about asking London to send a commissioner, since another Brexit delay is in the works.
"If after the 1st of November, and there are steps to do so this is not a given, there might be an extension, and the UK might still be in the EU. Then, of course I would ask the UK, to send a commissioner," explained von der Leyen.
On Monday, she will informally meet with the new French candidate, that Paris announced this week.
Thierry Breton would be in charge of the Internal Market... But some MEPs are already seeing potential conflicts of interest.
Sergey Lagodinsky, German Green MEP, member of committee that investigates conflict of interest of candidates said:
"Mr Breton is as far as I understand is an honorary civil servant of for example France Telecom, he is a CEO - as far as I understand from ATOS, which is an industrial new tech company, also very close to Siemens. And this is of course something very close to the area of the new commissioner."
New Hungarian candidate Olivér Várhelyi will also meet von der Leyen next week. The question is which portfolio he will get, as some have expressed Budapest should not be in charge of enlargement.
"So far we did not get any official or informal signals from her (von der Leyen) or from her environment about a change in portfolio. And I really hope that this view will stay in the future," Hungarian MEP Andor Deli (EPP) told our reporter.
Romania is yet to propose a replacement Commissioner candidate as the country is facing its own internal political crisis.
The Commission's celebrated gender balance is already at risk , as the two new nominees are both men.