'No justification, at this stage' for a new Brexit extension, says France's foreign minister
Comments
By Euronews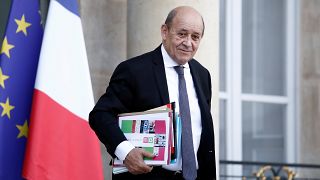 Copyright

REUTERS/Benoit Tessier
France sees "no justification, at this stage" for a new Brexit extension, Foreign Minister Jean-Yves Le Drian told parliament on Tuesday.
"The main question must be asked to the British who need to say as soon as possible if it's a yes or a no (on accepting the Withdrawal Agreement Bill) because you're right to say we've been waiting for this decision for the last three years."
"At this stage, we consider that there is no justification for a new extension," said Le Drian.
Earlier today, European Commission chief Jean-Claude Juncker said he believes the EU has done "all in our power" to ensure an orderly Brexit and now the divorce deal rests on the approval of British MPs before any European ratification.
British Prime Minister Boris Johnson is trying to pass a withdrawal agreement through parliament so that Britain can leave the EU on October 31. But he sent a letter to the EU on Saturday to ask for an extension as required by a previous bill passed by MPs. He also sent a second letter stating his personal lack of appetite for such an extension.
On Tuesday, Johnson warned MPs that if they voted against the timetable to push the Brexit deal through parliament this week he will pull the legislation and call a snap election.
Read More: Watch live: UK PM Johnson says he will pull Brexit bill if he loses timetable vote