Paris police fire tear gas and arrest over 100 as protest turns violent
Comments
By Euronews with AFP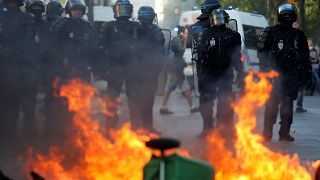 -
Copyright

REUTERS/Pascal Rossignol
French riot police fought running battles with protesters on Saturday in Paris, after a climate march was disrupted by masked demonstrators and representatives of the "gilet jaunes" movement.
More than 7,500 police officers had been deployed to stop any violence, amid fears the protesters and the radical "black blocs" would infiltrate a climate change march in the capital.
By mid-afternoon, police had made 137 arrests and pushed back a group of around 100 protesters that had gathered on the Champs-Elysees shopping avenue, the Paris police prefecture said.
Groups wearing black clothing associated with the so-called black bloc anarchist movement formed barricades, set fire to bins and a motorbike, and threw paint over the front of a bank.
Similar skirmishes occurred later in the march with the prefecture again attributing violence to black blocs. Police responded with tear gas.
The violence tarnished an otherwise peaceful march that brought thousands of people, including some yellow vests, onto the streets, a day after marches in Paris and other cities worldwide to demand government action against climate change.
Demonstrators carried slogans like "End oil now" and "End of the world" while some held carnival effigies, including one of President Emmanuel Macron wearing a crown marked: "King of bla-bla".
The "gilets jaunes" movement started on November 17 on social media as a response to hikes in fuel prices and has since become a wider protest of social inequalities.
Read More: 'Gilets jaunes': who are they and what do they want? | Euronews answers
However, it remains to be seen whether the movement will be able to regain its winter and spring momentum after tapering off over the summer.
Macron called for "calm" on Friday, saying that while "it's good that people express themselves", they should not disrupt a climate protest and the yearly European Heritage Days event also due to go ahead on Saturday.
After attracting 282,000 people nationwide on the first day of protests last November, "gilets jaunes" protest participation had fallen sharply by the spring, and only sporadic protests were seen over the summer.
Macron said in an interview with Time magazine published Thursday that the movement had been "very good for me" as it had made him listen and communicate better.
"My challenge is to listen to people much better than I did at the very beginning," the president said.
There is also a planned pensions reform protest organised by France's Force Ouvriere (Worker's Force) union in Paris this Saturday.
Want more news?