EU sends help to Greece as firefighters battle wildfire near Athens
Comments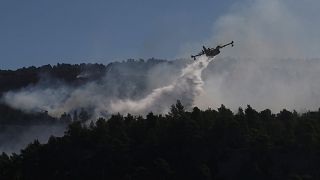 European Union water bombers joined firefighters in battling a wildfire that has destroyed areas of a forest on the Greek island of Evia.
Strong winds have helped to fuel the expansions of the blaze, which has been burning for three days. It prompted the evacuation of four surrounding villages.
No injuries have been reported at this stage, and the strong winds are expected to subside, a fire brigade official said.
Firefighters managed to contain the fire in a ravine near the village of Platana with the help of 100 vehicles, nine helicopters, and 12 planes, including two from Italy and one from Spain.
The blaze has caused substantial damage to the mountain wildlife sanctuary of Agrilitsa.
The General Secretariat for Civil Protection banned all activity in national parks, forests and "vulnerable" areas.
EU Humanitarian Commissioner Christos Stylianides welcomed the deployment of firefighting planes from Italy and Spain in a tweet.
Greece is often faced with wildfires in the dry summer months, just last year a wildfire killed 100 people in Mati, Athens. In 2007 devastating fires killed 65, scorched thousands of hectares of forest and farmland and threatened archaeological sites.
The fire generated thick smoke that blanketed Athens some 110 kilometres away from Evia.
The risk of the flames spreading will continue to stay at a critical level, especially in Attica, Eastern Sterea, Euboea, the Northeast Peloponnese, Thrace and the islands of the Eastern Aegean.
Very high temperatures are expected to continue throughout the country, authorities have confirmed.
Prime Minister Kyriakos Mitsotakis, who cancelled his summer vacation and returned to Athens on Tuesday, called for the EU to further bolster fire assistance services.