Iberia could be grounded by Brexit
Comments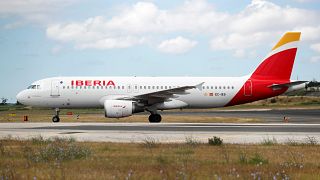 Copyright

REUTERS/Rafael Marchante/File Photo
Possible collateral damage to the Brexit is becoming more likely, at least for Spanish carrier Iberia.
Airlines that fall below the 51% threshold for EU ownership will not be able to operate within Europe if no Brexit deal is signed.
Given that Iberia is owned by Bristish Airways parent company IAG, the EU regulation might be a big problem, says Brussels-based corporate law expert Miguel Troncoso.
The issue right now is that of ownership rather than control, it seems, since Iberia alleges to the Commission that although majority British ownership remains, control is in the hands of Spanish companies.
Iberia carries 19 million passengers a year and is a major employer in Spain with over 7,000 workers.
While IAG wholly owns the economic rights of Iberia Holdings, the company says Spanish store El Corte Ingles owns 50.1 percent of the voting stake.
Thus, the Spanish government is confident that Iberia will be able to fly across Europe.
In case of a Hard Brexit, Iberia remains unable to operate
It is going to be very paradoxical since the system is unitary and there are no longer national systems, by virtue of the 2008 regulation, says Troncoso .
It is going to be paradoxical that it will not be able to operate between Spanish airports, because Iberia does not comply with the ownership regulation required by the EU.
Madrid is responsible for granting and supervising the license, but the EU Commission monitors whether this compliance is in force.
If it is not, Brussels could urge Spanish authorities to revoke Iberia's license.