Eastern European truckers protest against EU mobility package
Comments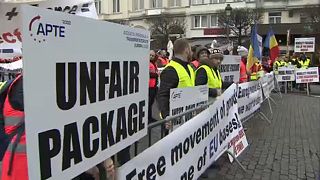 Hundreds of lorry drivers gathered in Brussels this week to protest the European Commission's Mobility Package.
Demonstrators from Poland, Bulgaria, Romania, Hungary and Lithuania say the package divides the transport industry of Eastern and Western Europe.
Their signs read: "Where is the EU? Just in the West?" and "Abusive Package for Eastern Haulage."
The European Commission said the Mobility Package was intended to address a number of problems within the European road transport sectors including C02 emissions and infrastructure safety management.
European Commissioner for Transport Violeta Bulc, who met with Eastern block transport ministers in Brussels, said the proposed legislative reforms would address the challenges for both drivers and operators.
"Europe needs clear rules for the road transport sector," said Bulc in a press release. "Status quo is not an option!
"Without a solution, we will face a multiplication of uncoordinated national requirements.
"This would fragment the Internal Market, creating uncertainty, higher costs and a loss of competitiveness for the EU!"
One of the ministers who met with Bulc, Bulgarian Minister of Transport Rossen Jeliazkov, has rejected several sections on the report including a ban on drivers resting in their lorry cabins. He also opposed the section that forces lorries and drivers to return to their country of origin every four weeks for 20 days.
Under the new regulations, drivers would have to spend their breaks outside the cabin of the trucks, leaving their cargo unattended and at risk on the open road.
Members of the Polish transport association told Euronews they fear the laws will unfairly change the transport rules in Europe, causing many Eastern-run companies to collapse.
They fear that empty loads returning to the Eastern bloc could be financially devastating for transport companies and make them unable to compete in the Western market.
The mobility industry employs more than 11 million people in the EU, about 5% of the bloc's employment, according to the EU Commission.
Passenger transport is expected to grow by 42% by 2050 and freight transport by more than 60% in the same period.