EU to take first steps towards disciplinary process against Italy over budget: sources
Comments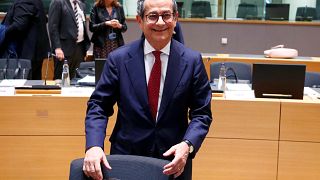 Copyright

Italy's Economy Minister Giovanni Tria - Reuters
The European Commission will take first steps towards disciplinary action against Italy over its 2019 budget next Wednesday.
This comes after Rome defied EU objections to its plans to borrow and spend more next year, three officials close to the process told Reuters.
Italy re-submitted its draft budget to the Commission on Tuesday, with the same main assumptions that Brussels rejected in October as contravening EU rules.
Faced with that escalation of the fiscal showdown from the eurosceptic government in Rome, the EU will take the first step in its excessive deficit procedure (EDP), focusing on Italy's failure to reduce its debt, on November 21.
"The Commission will launch its report ... to start the EDP, on Wednesday," a senior EU official said, according to the news agency.
What is the process?
The first step in the procedure is the publication of Wednesday's report.
It will then be discussed by EU deputy finance ministers and other members of the Economic and Financial Committee (EFC) will have two weeks to review it and give their recommendations.
The Commission hears the EFC's opinion and can act. At this point they may formally place Italy under the EDP.
If they decide to to that, the Commission sends an opinion to Rome and tells the finance ministers of each EU member state.
If these finance ministers endorse the decision, the procedure can be launched.
Content
The Commission said the decision on the exact content of the report under preparation, and therefore the potential next steps in the disciplinary procedure, has not yet been taken.
A European Commission spokesman said in a statement it was still considering what action to take.
"We do not wish to speculate on the launch of an EDP," a Commission spokesperson said.
"The Commission will complete its assessment of Italy's revised draft budgetary plan and publish an Opinion based on that assessment on 21 November, along with Opinions on the draft budgetary plans of all other euro area Member States," the statement read.
Debt management
EU rules, which the Commission has to enforce, set the ceiling at 60 percent, and say Italy must cut its debt towards that figure every year. 
At 131 percent of GDP, Italy's debt is proportionally the second highest in the EU after Greece.
[The headline of this article was corrected on 16/11/2018 to indicate that disciplinary action against Italy has not yet begun.]