Brexit: Brussels keeping calm and carrying on
Comments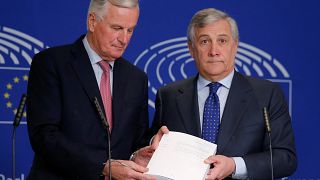 While the UK is in chaos, Brussels is keeping calm and carrying on.
In Strasbourg a planned press conference went ahead to herald the hard won deal.
Michel Barnier, the EU Chief Brexit negotiator, said this:
'We reached an important step last night in the Brexit negotiations. But there is a long road ahead in order to build our future."
The EU also defended the deal as the best one, echoing Theresa May's comments from Downing Street.
Guy Verhofstadt, MEP, European Parliament Brexit coordinator:
"What this agreement is doing that is it combines a Brexit - because that was the purpose and the decision of the British people - with a scenario that avoids a disruption, a disaster for the economies, for the EU economy but certainly for the UK economy. So it is a very important achievement."
The Commission refused to speculate on the Cabinet resignations in the UK.
European Commission spokesman, Margaritis Schinas, said:
"We are not going to comment any of the internal political developments in the United Kingdom, our negotiating partner is Prime Minister May and her government. And we will continue to work in good faith with them."
At a press conference with the South African president, EU Council President Donald Tusk hedged his bets.
"All I can say is we are prepared for a deal with the United Kingdom in November, and we are also prepared for a no-deal scenario. But of course we are best prepared for a no-Brexit scenario."
In Brussels and Strasbourg, all eyes now turn to Westminster.