'You are not a Christian democrat', Tusk
Comments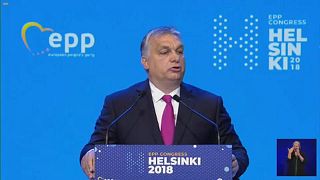 The Hungarian ruling party Fidesz and the PM Viktor Orban still raise concerns in the centre right political family, the European People's Party. After having backed the European Parliament's report which recommended to trigger Article 7 of the EU treaty and sanction Hungary over the rule of Law, now the EPP is coming under pressure to expel the party.
The biggest EP group adopted an emergency resolution demanding respect for the core values and freedoms of the European Union currently under threat. This resolution didn't name Hungary but many officials here in Helsinki said that this was a direct message to the Hungarian Prime Minister Viktor Orban who was also here.
"Let us restore the unity of the European People's party. Let us never trust those, who build personal ambitions on dividing the EPP family with socialist and liberal accusations. For the sake of victory, let us get back to our spiritual roots, and let us proclaim the renessains of the christian democracy," Orban told the congress.
Austrian Chancellor Sebastian Kurz, in his speech said that the EU values are sacred whatever the party the government leader belongs while the European People's Party described Orban as the enfant terrible that all the families have and it's better to keep it close.
Donald Tusk, European Council president launched a far more scathing attack on Orban, without naming him.
"If you are against the rule of law and independent judiciary, you are not a Christian Democrat. If you don't like the free press and the NGOs if you tolerate xenophobia, homophobia, nationalism and antisemitism, you are not a Christian Democrat."
Under the EPP's rules the group's presidency can consider expelling a party under the condition that seven members from five different countries request a vote.