Oleg Sentsov - a symbol of resistance in Ukraine
Comments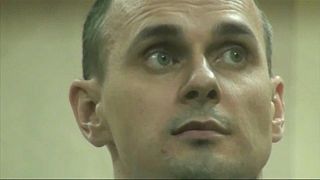 Oleg Sentsov has become a symbol of resistance in Ukraine.
The Ukrainian filmmaker was arrested in 2014 and sentenced to 20 years in jail on terrorism charges, which he denies.
Before his incarceration his star was on the rise.
He self-produced his first film Gamer in 2011 on a budget of less than 18.000 euros.
He raised the funds from his job running a gaming centre in the Crimean city of Simferopol.
But Russia's annexation of Crimea in 2014 changed the course of his life.
A vocal critic of the Kremlin, he was convicted by a Russian military court the following year in a trial widely condemned by the international community.
In May of this year Sentsov began a hunger strike to campaign for the release of 64 other Ukrainian political prisoners held in Russia and annexed Crimea.
He told his lawyer that he timed his protest that he might die during Russia's hosting of the 2018 World Cup.