Ukraine conflict: in the eyes of a student
Comments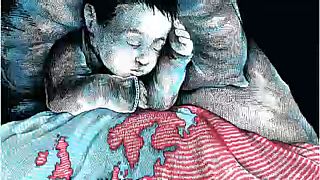 The conflict in Ukraine, which broke out in 2014, may have slipped from the headlines. But it's always on the mind of 24 year old student Yevheniia Gasai, whose family - from Donetsk - have become internally displaced.
"Everyday we lose some citizens of our country; so we cannot forget it. I lost my native city, I lost contact with many of my friends and relatives," she told Euronews.
Yevheniia has come to Brussels, where she's been at the opening of an exhibition - made up of personal objects and war memories of 17 European students, illustrated by an Italian artist.
She brought a photo of her grandparents wedding, in 1939, at the beginning of World War II.
Yevheniia has a clear vision for Ukraine's future.
"I hope that politicians will help to solve this conflict and will help Ukraine to become member maybe soon of the European community and that many young Ukrainians could travel to Europe," she said. 
The Unheard Traces exhibition - at the House of European History - is part of the European Year of Cultural Heritage and runs until 14 October.