Brexit - edging closer to a deal or a cliff-edge
Comments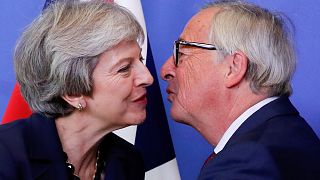 Copyright

REUTERS/Yves Herman
The long kiss goodbye...A Brexit summit where a deal could be won or lost. The British Prime Minister appeared upbeat upon arrival.
"I believe everybody around the table wants to get a deal and by working intensively and closely we can achieve that deal. I believe a deal is achievable and now is the time to make it happen," said May entering the summit.
But some of the EU leaders were a little more sceptical on the timing.
"We would like to have good relations with the United Kingdom. We would have loved to have the divorce agreement ready by today, but it's only 90 percent, and we still have work ahead of us," said German Chancellor Angela Merkel. 
The meeting with the EU27 was a short one, and it appears there was no progress to be made. 
Shifting the timeline for Brexit back once again, and the prospect of a no deal ever nearer.