British philosopher calls for second Brexit referendum
Comments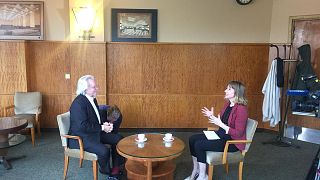 The only way to solve the internal division in the UK is to call for a second referendum, says the British philosopher A.C. Grayling. 
Speaking to Euronews in the Flagey Studios of Brussels ahead of a talk about moments of being, the professor admitted that he lived in a bubble and had no friends who voted to leave the UK. A.C. Grayling is an active voice in the Peoples Vote campaign who are planning to march through the streets of London on 20 October to protest against Brexit.
"The majority of people I would say, and I would say with confidence, are very symèathetic towards the European project they realise its flawed it's got problems and difficulties but any great imaginative endeavour like the European Union. Of course, it's going to take a long time to get itself right and we should be part of it, we shouldn't be outside it," Graying said.