Iranian goalkeeper's life story inspires fans in pursuit of their dreams | The Cube
Comments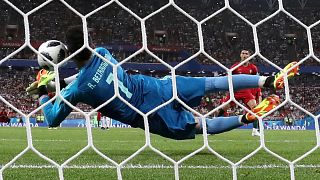 The life story of Iran's goalkeeper, who last night saved a penalty from Portugal's Cristiano Ronaldo, has inspired fans worldwide with his unlikely journey from homelessness to representing his country in the 2018 World Cup.
Alireza Beiranvand, 25, told The Guardian he ran away from his home in Sarabias, Iran, at the age of 12 to pursue his dreams of a career in professional football. On the bus to Iran's capital, Tehran, Beiranvand said he met a football coach who agreed to train him for a price. But without any money or a home, the boy was forced to sleep on the streets of the Iranian capital and outside the football club where he trained.
To make ends meet, Beiranvand worked a number of jobs over the years, including as a car washer, a street cleaner, and a pizza boy, as he continued his football training.
Beiranvand's talent saw him rise through the footballing ranks until he became Iran's lead goalkeeper in 2015, and, fast forward to the 2018 World Cup in Russia, was watched by fans across the world as he saved a penalty shot from one of the world's highest-ranked football players.
Social media users across the globe reacted to Beiranvand's life story with positive messages and discussion of his inspirational journey.
Twitter user Steven Nabil said Beiranvand's performance in the Iran-Portugal match was proof that "dreams do come true if we work hard for them."
Another Twitter user, Arnika Paranjape, applauded the Iranian, "who never stopped believing in his dreams."