Brussels photo exhibition presses for free media
Comments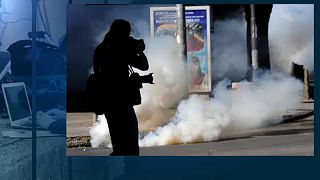 Shining the light on difficulties faced by journalists in their everyday work. Under the banner, "Building trust in media in South East Europe and Turkey," a Brussels exhibition is highlighting the importance of freedom of expression and independent media.
Almost 80 journalists were murdered globally last year, according to UNESCO.
Adeline Hulin, from UNESCO Brussels, explained: "In some countries some journalists earn only 200 euros per month. They don't have a stable contract, they're freelance most of the time. They don't necessarily receive social security. Why is this important? Because it impacts their work and freedom of expression."
In Turkey, more than 150 journalists are currently behind bars. In the wake of a coup attempt in 2016, more than 180 media outlets have also been closed down by the government.
Critics say the coup has been used as a pretext to quash dissent.
"We have two projects in Turkey. We also support our journalist union and association to do capacity building to resist," explained Renate Schroeder, Director of the European Federation Of Journalists.
"It's very hard but we have to be there we have also trying to be there when there are court cases to show international solidarity."
Last month, an investigative reporter was shot and injured outside her home in Montenegro. The EU's called for journalists in the Balkan country to be protected.