Modern slavery in the heart of Europe
Comments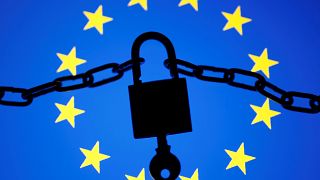 No need to travel far from EU institutions to find out about migrant labour conditions. At the Arts-Loi Metro station in Brussels, Mohammed, an undocumented Moroccan immigrant, worked for months for 50 euros a day to renovate it, and it was hard labour. You can find his portrait among the pictures decorating the walls of the station.
"They call us when there is work that's unbearable for others. Once I did 8 hours-8 hours-8 hours: it means 24 hours without stopping. There is always the risk of being fired, which means that you have to keep on working without saying anything. We live in fear. Our daily life is fear".
Human trafficking for labour exploitation is on the rise, according to the latest report by the Council of Europe.
The victims are often undocumented immigrants, and all vulnerable groups living in precarious economic conditions are at risk.
What seems like a job opportunity can turn into a living hell: the victims often depend on their traffickers for work and housing.
They work in a wide range of services, like food production, the restaurant industry, personal care, and construction sites.
They are often forced to work under threat but rarely denounce their conditions for fear of deportation or retaliation.
The Belgian association as-Surya helps victims of human trafficking by offering them shelter.
"Because of this amplification of illegal immigration there are more and more different people of foreign origin exploited here. And then the economic crisis increased the need to have workers available to work for practically nothing," said Christian Meulders, of as-Surya ASBL.
Belgium sets a good example in the fight against human trafficking, because of its special reception centres for victims, and new legislation.
Still, Frederic Kurz, a prosecutor in Liege, explains how hard it is to get successful prosecutions and convictions for traffickers .
"Their first words will rarely explain all that they have lived because they have post traumatic stress. The difficulty is that the lawyers of the traffickers in court will tell us: you see the victim is not credible, She or he made a statement and then changed stories," explained Kurz.
Activists say many European countries need to crack down harder, and better coordinate NGOs, trade unions and the private sector to help end these abuses.