Putin inauguration speech 'devoid of any content'
Comments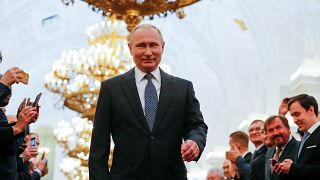 In Russia, he's depicted as a leader who maintains stability and peace - while everywhere else faces turmoil. But what will Vladimir Putin's fourth term as president look like?
Will Moscow be more assertive? Analysts say they got very little substance from his inauguration speech.
Analyst Judy Dempsey, from Carnegie Europe, told Euronews: "So much depends on who is going to be the prime minister, this is the first thing. And secondly the composition of the cabinet. Of course the cabinet is always been the Putin-people so to speak. 
"But there is some speculation about the role of the current Prime Minister Dmitri Medvedev. Frankly we have got very little indication what's going to happen. I found the speech quite extraordinary because it was devoid of any content."
Putin's inauguration comes amid strained relations between the EU and Moscow. Brussels introduced economic sanctions against it over the Ukraine crisis. And, more recently, Britain said Russia was a threat to the whole of Europe.
"For the moment it is interesting that the EU has very much held together and I think it will continue but this isn't a strategy," said Dempsey.
"And sooner rather than later I think some of the big countries will have to get together and of course with the Baltic states and Poland and other countries and actually decide how we are going to deal with this Russia."
But, for the EU, agreeing that joint strategy is easier said than done, with the likes of Hungary aligning itself closer to Moscow with trade ties.