UK: Windrush scandal becomes Brexit issue
Comments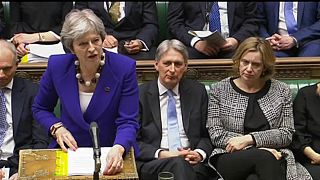 The UK's record on immigration is under fire at home and in Brussels after a scandal involving the Windrush generation which was invited to Britain to plug labour shortfalls in the postwar decades.
Some of their descendants have been caught up in a tightening of immigration rules.
Facing a grilling from the UK parliament Theresa May said: "I want to be absolutely clear, that we have no intention of asking anyone to leave who has the right to remain. And for those who have mistakenly received letters challenging them, I want to apologize to them."
Despite May's charm offensive – the issue has stoked fears amongst EU citizens in the UK that they will suffer a similar fate.
European Parliament Brexit negotiator Guy Verhofstadt was categorical in his condemnation. And said he would address the issue next week.
A spokesperson for May went on to reject fears EU citizens would experience similar difficulties telling reporters "Very strong guarantees have been given to EU citizens via the joint report and reconfirmed by the agreement in March."
However, the issue of citizens rights in a post-Brexit Britain still remains up in the air.