EU Brexit Treaty: 'Devil in the detail'
Comments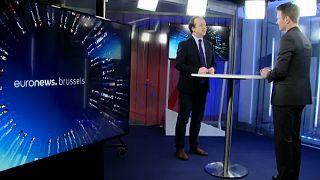 The publishing of the draft Brexit Treaty should be marking a decisive and pivotal milestone in the UK's split from the EU. But, it comes as both sides appear to still be poles apart on deep, and fundamental, issues.
So, what exactly is the treaty and why should we care?
Big issues
The treaty covers, among other things citizens' rights, which has been causing so much concern. It also addresses Ireland and the border issue, which appears far from being solved.
And the legal document talks about the much-debated transition period, which the EU says right now is "not a given."
Analysis
In Brussels, Euronews' Damon Embling spoke to Professor Harri Kalimo, from the Institute for European Studies at the VUB University.
Damon Embling: "How significant is it?"
**Professor Harri Kalimo: **"Well it is significant and as in any legal text, the detail is where the devil lies, so that's the first point. Secondly, it is a draft of the Commission to the member states. The member states, as the decision makers obviously need to know what exactly the concrete contents of this treaty will be.
"Thirdly, the EU position towards the UK is becoming more concrete and the UK government will have less room to manoeuvre around."
Damon Embling: "Northern Ireland, a big issue in all this. It seems the EU in the future could hold a lot of sway there still?"
Professor Harri Kalimo: "Sway may not be the right word. But there is indeed the fallback position or the option of actually somehow holding Northern Ireland as part of the Customs Union.
"That would mean that it's bound by the internal market regulations of the EU as well as for example the Court of Justice jurisprudence.
"So these kind of issues would indeed mean that. That however is only the fallback and would be very difficult for the UK government to swallow."
Next steps
The plan is to agree the Treaty in the Autumn, including the transition period, for it to be ratified before the big Brexit in 2019. What happens over the coming months will be crucial.