Watch again: British PM Theresa May gives key Brexit speech
Comments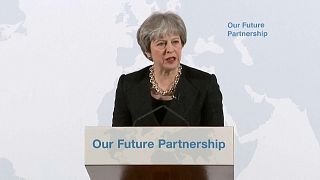 British Prime Minister Theresa May has delivered her government's long-awaited Brexit negotiating position, which included avoiding a hard border with Ireland and the UK's hopes for an economic partnership with the EU.
May said the UK needs a bespoke deal: "We need to look beyond the precedents and find a new balance," she said, noting that neither the trade deal between the EU and Canada, nor the situation of Norway, which follows EU rules in order to be part of a free trade zone.
"Neither of us can have exactly what we want but I am confident we both can reach agreement," she stated.
May said she wanted trade in goods to be as frictionless as possible, without tariffs or quotas. This would mean that product standards will remain "substantially similar" between the EU and the UK. The UK will not remain in a customs union, she insisted, ruling out the favoured position of the opposition Labour Party.
Among other options, she suggested a solution where goods coming into the UK could pay different tariffs depending on whether they were intended for onward transport into the EU.
May added that the UK may keep EU rules in certain areas such as on state aid and competition and might want to remain in some EU agencies such as those regulating chemicals, medicines and aerospace.
You can watch her address in the player, below.
Leaders react
The EU's chief negotiator, Michel Barnier, welcomed May's speech on Twitter, but called on more clarity.
"I welcome PM @theresa_may speech. Clarity about #UK leaving Single Market and Customs Union & recognition of trade-offs will inform #EUCO guidelines re: future FTA."
Democratic Unionist Party leader Arlene Foster was also accepting of May's speech, tweeting: "The Prime Minister has set forward the basis upon which it would be possible to move forward. The issues facing both the United Kingdom and the European Union are of fundamental importance and it is vital that we achieve outcomes that are sustainable for the future."
However the European Parliament's lead Brexit spokesperson, Guy Verhofstadt, was less enthused, saying, "Theresa May needed to move beyond vague aspirations, we can only hope that serious proposals have been put in the post."
Busy week for Brexit
May's speech came after a key week for Brexit.
On Wednesday the EU's Michel Barnier unveiled how Brussels was approaching the negotiations.
It included a controversial suggestion that the EU — unless a better solution is found — envisages Northern Ireland and its southern neighbours remaining in a customs union post-Brexit.
The UK has rejected this idea amid protests from its Westminster allies, the Democratic Unionist Party.
On Thursday, former British Prime Minister Tony Blair told Euronews a soft Brexit was not a sensible option for the UK.