EU-NATO push for anti-terror cooperation
Comments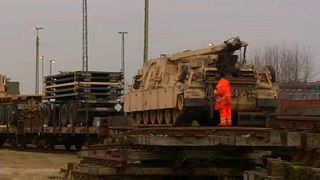 As the so-called Islamic State loses ground in the Middle East, NATO defense ministers meeting in Brussels are pushing for closer counterterrorism measures with the European Union.
It's a topic that the US Secreatary of State Rex Tillerson also took up with his EU counterpart, Federica Mogherini.
"Our shered objective in terms of defeating ISIS is quite important – not just defeating ISIS in Iraq and Syria but defeating ISIS globally and continuing our discussion on joint effort to combat terrorism wherever it raises its head," Tillerson told reporters following his meeting with Mogherini.
At the NATO meeting Secretary General Jens Stoltenberg touted successful cooperation with the EU in cyber defence and countering disinformation in social networks and other media.
Notably absent from Stoltenberg's remarks, simmering tensions with Russia.
"The Secretary general and others at NATO headquarters speak less today of the Russian threat," says euronews' Andrei Beketov, "although last week the US Secretary of State promised to help europeans deal with Russian agression against its neighbours. The rethoric was apparently softened in advance of an upcoming meeting between Tillerson and Russian foreign minister Sergei Lavrov".
Nonetheless, concerns about Russia loomed over the meeting, as ministers also discussed better military cooperation across Europe. Their top priority to remove obstacles to trans-European operations, including mismatched infrastructure and border controls.
"The challenge there is to move military equipment and troops quickly across the European continent to the Eastern front or to the Southern front if necessary," says Brooks Tigner of Jane's Defence Weekly. "The problem is many of these pieces of interopable equipment and transport infrastructures were dismantled afthe the Cold War".
As the two-day meeting continues, the NATO-Georgia Commission will discuss the country's security situation and areas for further cooperation.