Irish PM looks to the future of Europe
Comments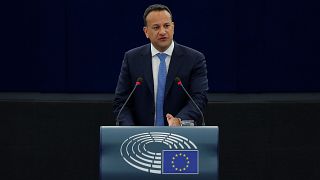 Irish leader Leo Varadkar was at the European Parliament on Wednesday to kick off a series of talks on the future of Europe.
Varadkar took the opportunity to underline his country's commitment to the European Union and reiterate his opposition to a hard border with the United Kingdom once Brexit is complete.
"The government which I lead has been determined to protect the Good Friday Agreement in all its parts and all that flows from it," Varadkar told the Strasbourg assembly, referring to the 1998 peace accord between the Republic of Ireland and Northern Ireland. "And this is why we insisted that there cannot be a return to a hard border on the island; no new barriers to the movement of people or to trade. And this is why we are so deeply grateful for the remarkable solidarity and support from other [EU] member states. It is everything we hoped for and proved positively why small countries benefit so much from membership of this Union".
For many residents of Ireland and Northern Ireland, the threat of a hard border stirs painful memories from when debate about Northern Ireland's status led to decades of sectarian violence that killed thousands.
The 1998 Good Friday Agreement has brought 20 years of peace but there are fears it could be undermined if Brexit resurrects an Irish border and with it renewed division.