EU seeks to closer ties with eastern neighbours
Comments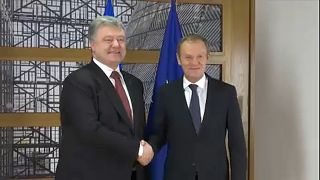 Ukrainian president Petro Poroshenko has long sought EU membership for his country.
But offiicials in Kiev are angry that a new meeting in Brussels makes no distinct promise of a route to joining the bloc.
The EU had been trying to convince the president of Belarus to join in a bid to forge closer ties.
But Alexander Lukashenko turned down the invitation.
"Since the Ukrainian crisis Belarus is playing a very useful role of hosting the Minsk talks. It has been the place of the so called Minsk agreement which is essentially a peace settlement And since major European leaders including German chancellor Merkel and at that time French president Hollande visited Minsk. Essentially the isolation of Belarus and self-isolation from Belarus from the EU has been over," said Balázs Jarábik from the Carnegie Endowment think-tank.
The Eastern Parternship was set up to pull former soviet countries closer to the EU's orbit.
it has tried to get closer to Belarus following signs of an apparent cooling of relations with Moscow.