MEPs fret over rule of law in Poland
Comments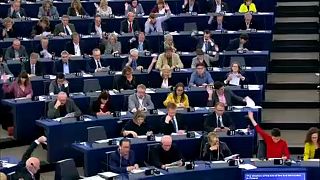 MEPs are worried about the rule of law in Poland.
Two thirds of them voted in Strasbourg to raise the alarm about the independence of the judiciary in a vote in Strasbourg.
It follows court reforms last year, as well as changes to public media.
The vote is non-binding but aims to pressure EU governments into taking action.
"Where there are clear breaches of fundamental rights of European values, you cannot allow this to go unchecked because what you could then have is contagious of other countries engaging in undemocratic practices," said Claude Moraes, a British Labour MEP.
The European Commission opened a rule of law probe earlier this year, and could recommend suspending the country's voting rights.
"We hope that many countries, actually our friends and also countries whose governments know better the situation in Poland, just will vote against and will stop this procedure"
But one government minister, speaking off the record, told euronews they aren't worried about the row.
The governing conservative Law and Justice Party has been riding high in Polish opinion polls in recent months.