Catalonia crisis comes to Brussels
Comments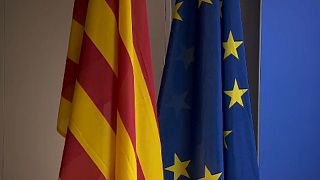 The Catalonia independence crisis has come to Brussels, with the foreign affairs chief for the regional government visiting, as Madrid threatened to impose direct rule.
Raul Romeva told the EU it cannot ignore what is happening, alleging the Spanish government is not respecting the bloc's fundamental values.
"There are political prisoners today in the European Union," said Romeva.
"What is happening right now in Catalonia will have long term effects in all European countries, European societies, the European economy and foremost in the European credibility."
His words coming as Jordi Sánchez and Jordi Cuixart, two leaders of the separatist movement, are held while being investigated for sedition.
Many on the pro-independence side view this as politically motivated.
Meanwhile, Spanish Socialist and opposition leader, Pedro Sánchez, has also been in Brussels – to meet EU officials and socialist representatives from other countries.
He rejects claims of political prisoners being taken.
"On this issue, there are politicians that are in prison because the have not respected the law and have violated the current law," he said.
Reporting from Brussels, Euronews' Ana Lázaro Bosch said: "During his visit to Brussels, Pedro Sánchez also indicated that the Catalan president has two options to avoid the application of Article 155. He accepts openly that he did not declare independence, or convene early elections."
Spanish Prime Minister Mariano Rajoy urged Catalonia's leader on Wednesday to "act sensibly" and renounce the independence bid, to head off the threat by Madrid to impose direct rule.
Rajoy issued his appeal in the national parliament, where he sought to win more political support for taking direct control of Catalonia on Thursday, if the regional government sticks to a plan to break away.