Special report: Desperate plight of Calais migrants
Comments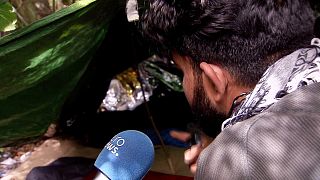 Nine months after Calais' so-called 'Jungle' camp was razed to the ground, migrants have returned – and are even more desperate to get across the Channel to England.
What had become a vast shanty town, sheltering up to 10,000 people, was destroyed by French authorities last October.
In an exclusive report, Euronews has discovered that's it not deterred hundreds of desperate migrants, who still see Calais as a gateway to a better life.
"The dismantling of the camp, it was a defining issue. First of all, in this camp, 60 percent of the people wanted to stay in France. But now in Calais, people want to go to England, as quickly as possible. Even more so now, because there is no way to shelter at night," said Christian Salomé, from a local migrant welfare group.
"Their blankets, their bedding are thrown in the canal you can see behind me, every night or every morning. There is pressure for people to pass through as quickly as possible."
French President Emmanuel Macron has promised that migrants will be treated humanely.
Last month, a local court ordered authorities to provide drinking water, toilets and showers. But there has been no sign of that – according to Khalid, from Afghanistan, who spoke to Euronews in a rare interview.
"The difference is huge compared to the former 'Jungle,' police were not harassing people every day. There were houses, tents set up, there was food. We had everything there," he said.
"There were showers, toilets, a mosque and even a place for eating. We had everything. Here, there is nothing, no toilet, no shower, nowhere to sleep. Not even a plate to eat from."
Campaigners say the tough conditions are aimed at forcing migrants like Khalid out of Calais for good.